Ricketts Sanctuary, Mt Dandenong
This Sanctuary is a testament to one man's philosophy, William Ricketts, who believed that the natural environment is entrusted to us all and by nurturing the earth, we nurture life.
The William Ricketts Sanctuary is a special place to visit and we are so fortunate to have had a man of such talent leave a unique legacy in the Dandenongs for generations to enjoy. It was one of Billy Connelly's favorite places that he visited during his Australian tour in the early 1990s.
All the sculptures in the sanctuary are made of kiln-fired clay and a display can be seen of a kiln and the processes he recorded. Blended expertly onto rocks and sitting in the natural environment of the Dandenongs. Each kiln fired clay sculpture is unique.
William Ricketts was born in the Melbourne suburb of Richmond in 1898. By 1934 he had settled permanently in Mt Dandenong after a youth spent developing his skills playing the violin, creating jewelry and learning the art of clay sculpting.
There is an audio-visual display in the original cabin he lived in at the sanctuary, recommended viewing to gain an insight into his life and work.
William Ricketts died in 1993 at the age of ninety-four. Up until that time, he could often be seen outside working on his sculptures.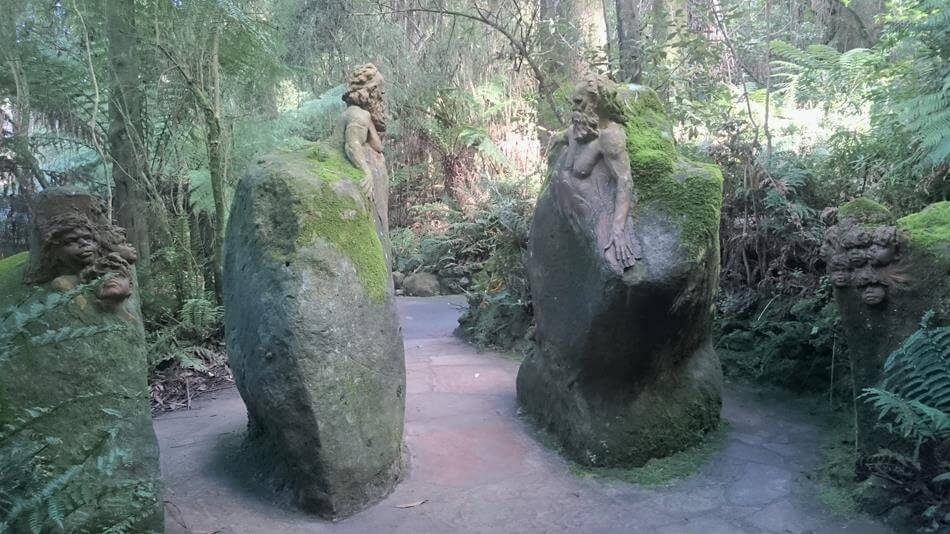 William made numerous trips to Central Australia between 1949 – 1960 where he connected and lived with the Pitjantjatjara and Arrernte Aboriginal people. This is where he derived so much of his passion for their culture which is reflected in his beautiful sculptures.
Time living in India gave William a spiritual connection and love of the Indian culture, he spent 2 years living at a famous spiritual center before returning to Australia.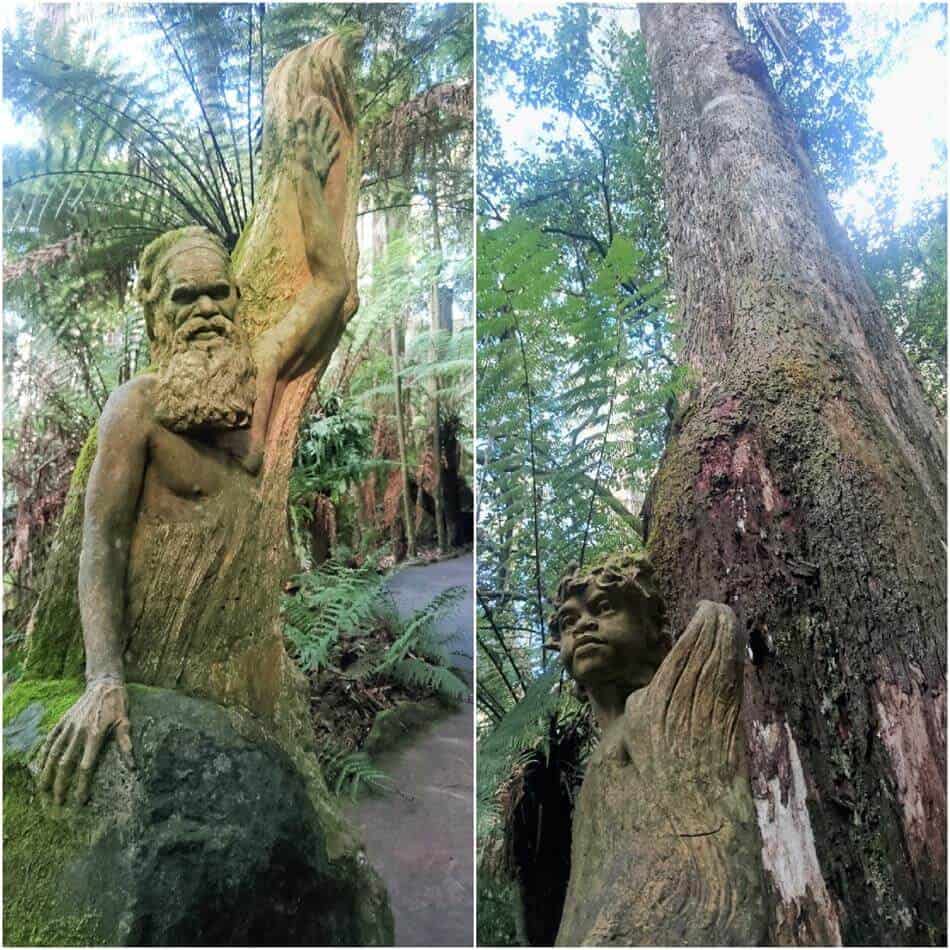 Dozens of sculptures are set in the forest scene beneath Mountain Ash trees, ferns, and native shrubs. After many visits, it can be surprising to still find sculptures that have not been seen on previous occasions…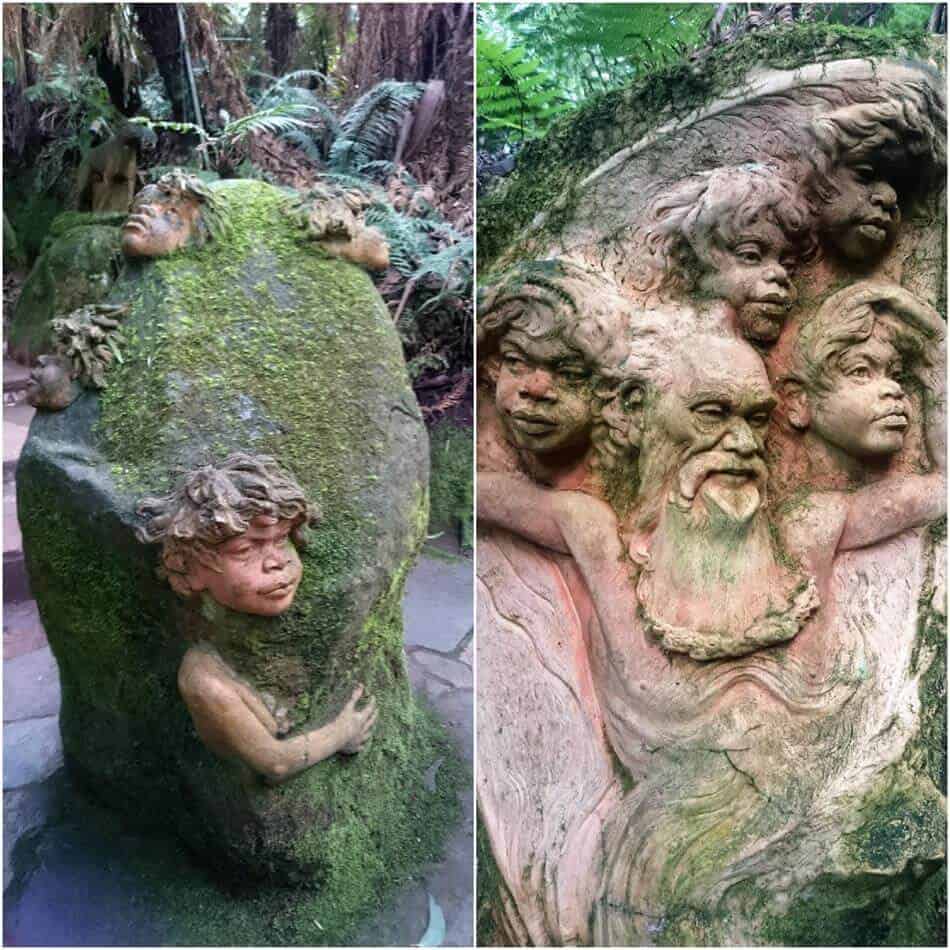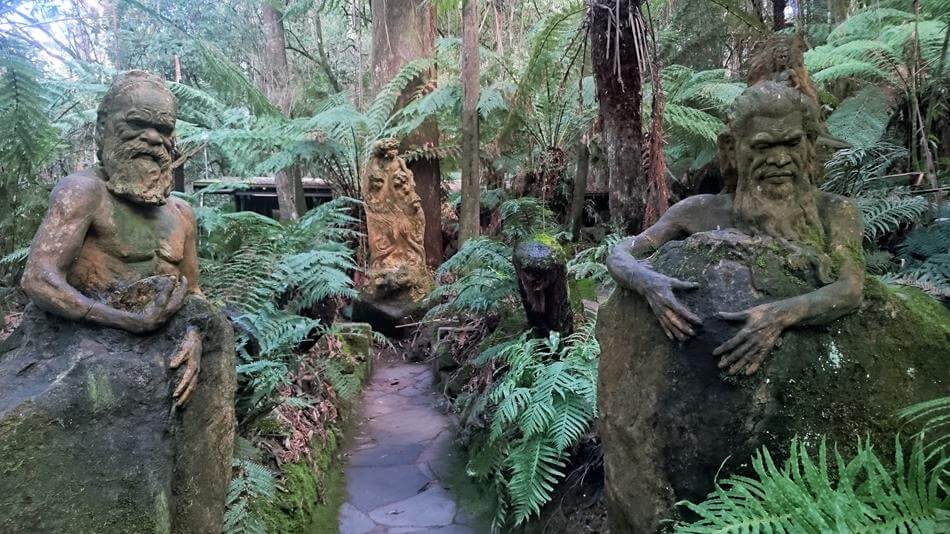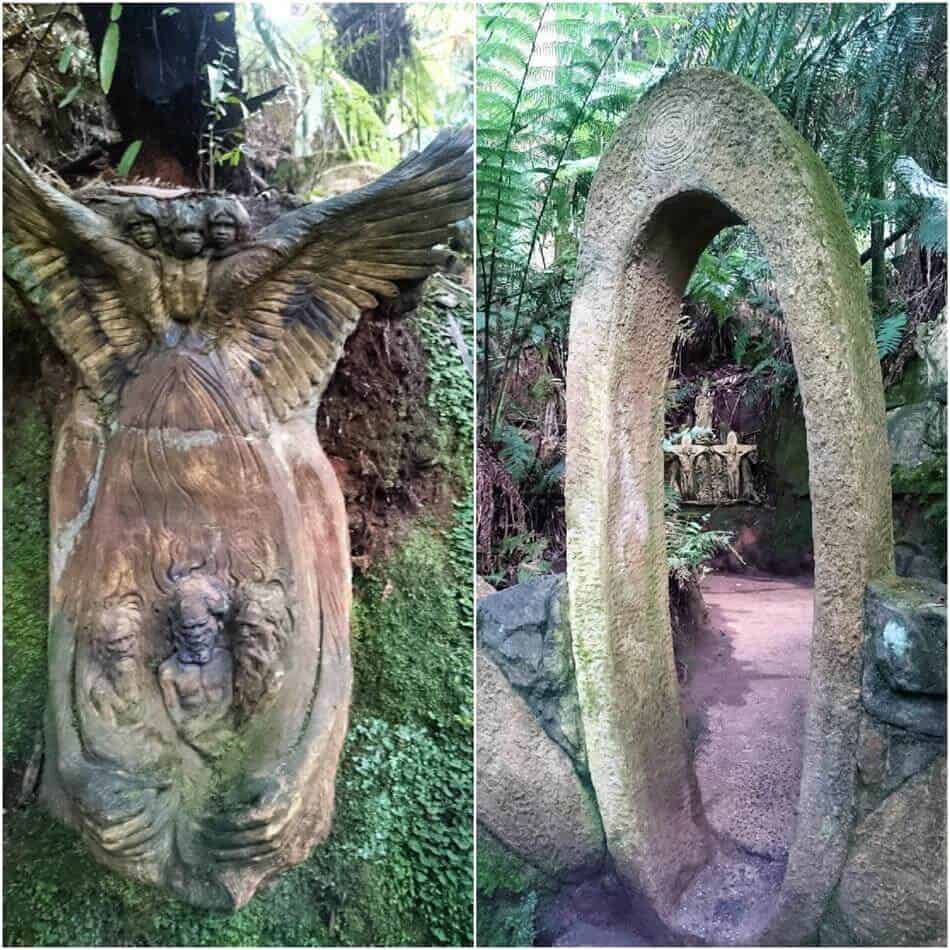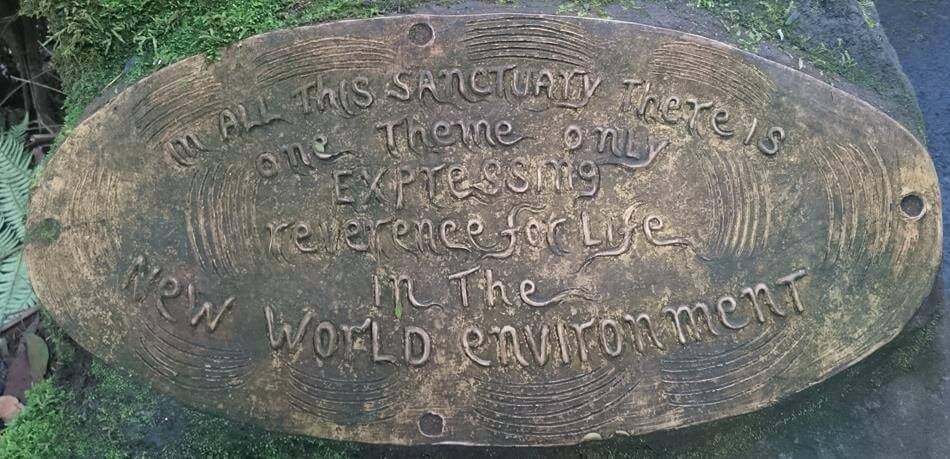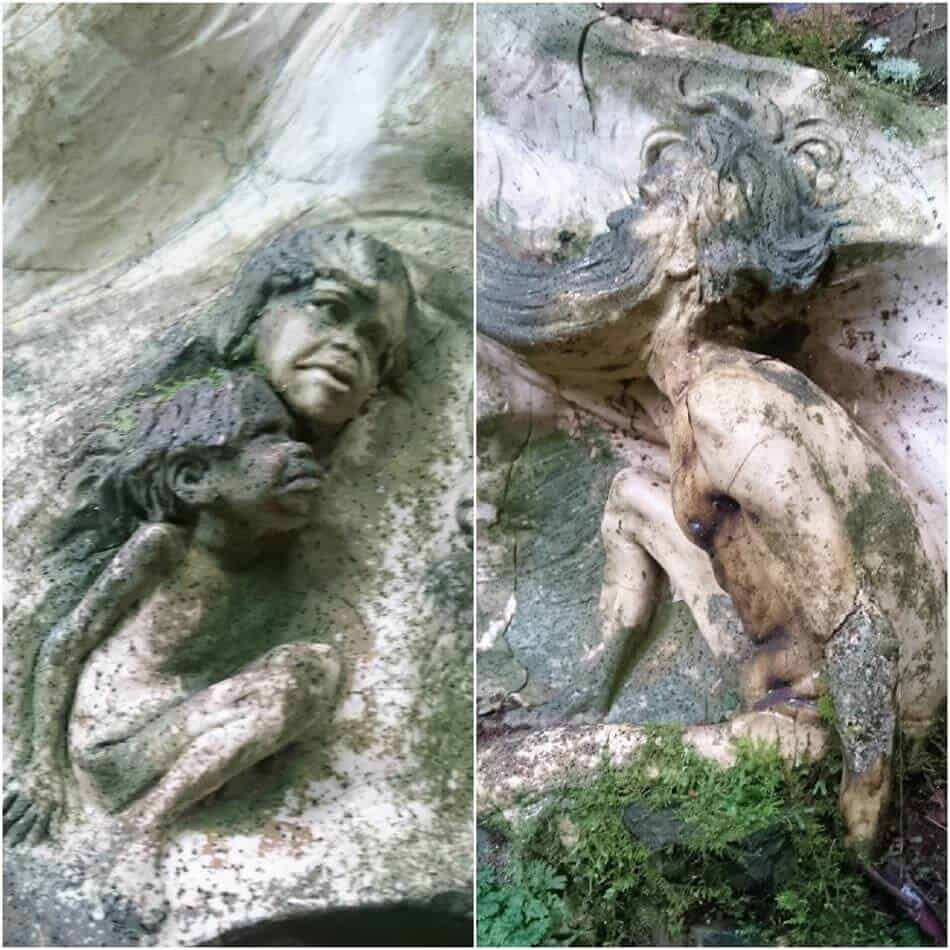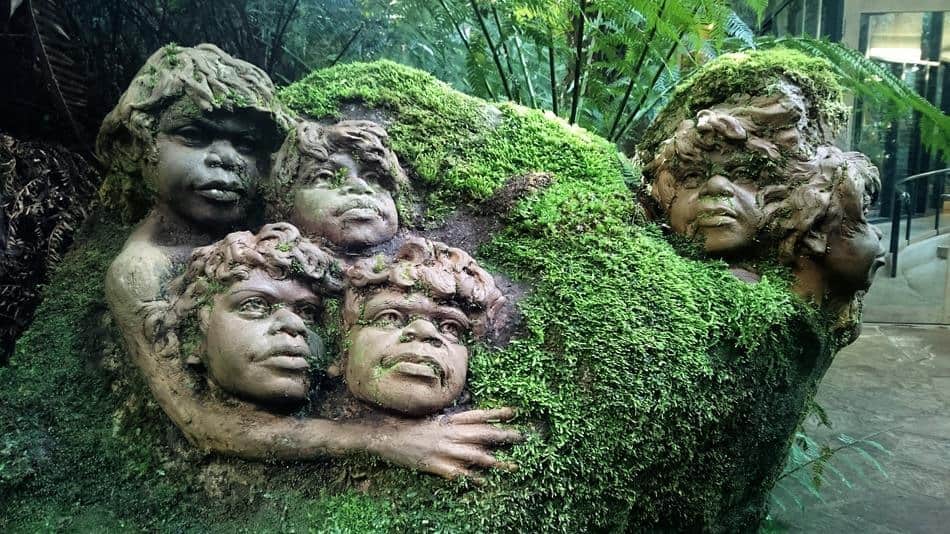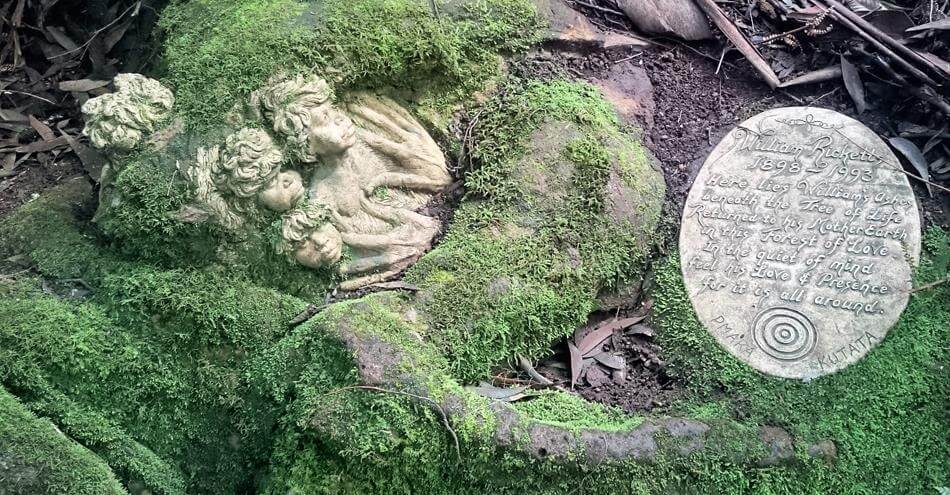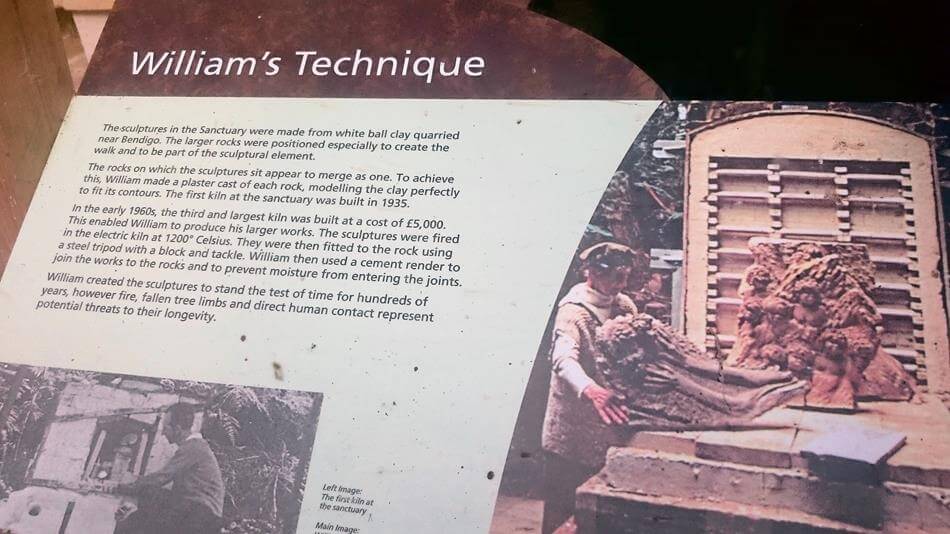 The famous beret and two woolen jumpers that William Ricketts wore for many years can be seen in the 'newer' cottage and workshop.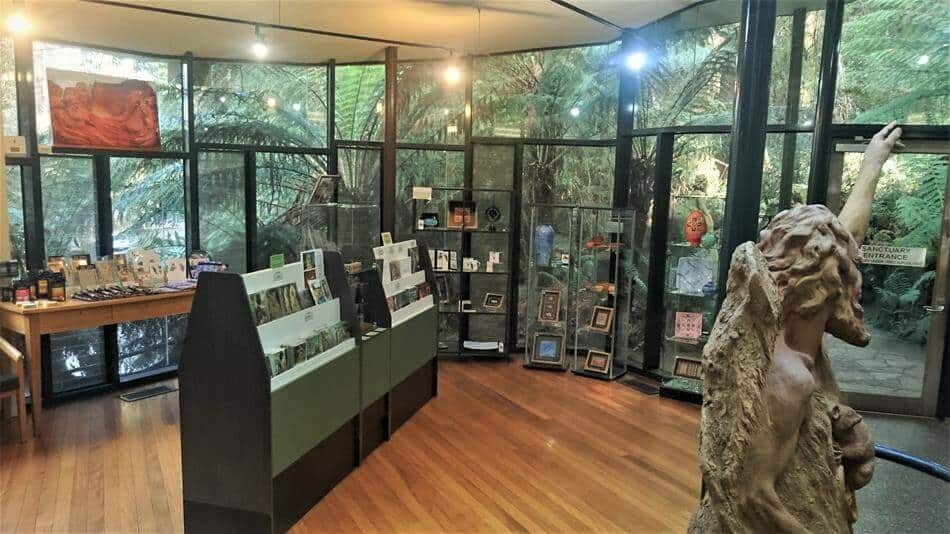 Postcards, books and limited gifts can be purchased in the shop as visitors enter or leave the sanctuary.
Ricketts Sanctuary is Open Daily 10 am to 4.30pm (except Christmas Day,
days of Total Fire Ban, high winds or for major works).
Please call Parks Victoria on 13 1963 to confirm the opening of the sanctuary if in doubt.
No cafe on site, no food or drinks allowed in the sanctuary, no smoking and no dogs.
Please keep children respectful of the sculptures and do not allow them to climb on them.
Bus route No. 688 from Croydon Train Station will drop visitors at the Ricketts Sanctuary bus stop.
Parking is in a lower park, opposite the sanctuary. Toilets available in the sanctuary as well as a disabled toilet in the foyer.
Wheelchair access and some paths are suitable for wheelchairs, though there is a slope heading up to the top area.
FREE ENTRY – though please consider leaving a donation to help maintain the sculptures and sanctuary.
Get Directions to Rickett's Sanctuary.
Nearby places to visit
If you enjoy wonderful views, drive to Kalorama Lookout at 5-Ways on the corner of the Tourist Road and Ridge Road for views across the Silvan Reservoir and the Yarra Valley
Afterwards, take the short walk to Burkes Lookout to see the views across Melbourne and perhaps stop in at Skyhigh for a cuppa or go down to one of the villages.