Doongalla Homestead – Local History and Walks
Located on the Western side of Mt Dandenong, Doongalla Homestead was a magnificent mansion home, consisting of 32 rooms, built in 1892.
Owned at the time by a member of parliament, Sir Mathew Davies, it was sold In 1908 to Miss Helen Simson. The stables were built, gardens developed and the property renamed as 'Doongalla', which means place of peace. Doongalla was sold in 1922 and was purchased by a local estate agent, T. M. Burke.
The 279ha Doongalla Forest Reserve is comprised of several properties originally established between 1885 and 1993. The reserve extends to the top of Mt Corhanwarrabul, the second-highest peak in the Dandenongs, also known as Burke's Lookout
Sadly, little remains of the Doongalla Homestead mansion. Fires of 1932 destroyed the home, leaving only the stables and servants quarters. Parks Victoria Rangers now occupy the original servants quarters building and the stables have long since gone. The front steps, leading up to a picnic area and to where the grand home once stood, are still there.
This article may include affiliate links. Please read our disclaimer.
Walk from the 1000 Steps or Mt Dandenong Summit
A walk from the 1000 Steps in the Ferntree Gully section of the park can be lengthened to follow tracks across to Doongalla Homestead as the 20km walk from Mt Dandenong Summit to Upper Ferntree Gully passes through here.
The walk from Doongalla Homestead up to Burkes Lookout and Mt Dandenong is about 2.5 km and well worth the effort. Following Channel 10 Track, Zig Zag Track, and joining Kyeema Track. The views from Burkes Lookout are stunning. Sections of the walk pass through some of the loveliest tracks lined with tall tree ferns. Watch out for Superb Lyrebirds, we saw some on our last walk here, singing and scratching, seemingly oblivious to us watching on.
Hike the Fire Trail to Burkes Lookout
Also known as Glasgow Track, the Fire Trail is a strenuous hike up the side of Mount Dandenong and involves clambering over rocks, but it is a fantastic challenge for anyone keen to tackle the toughest 'walk' in the Dandenongs!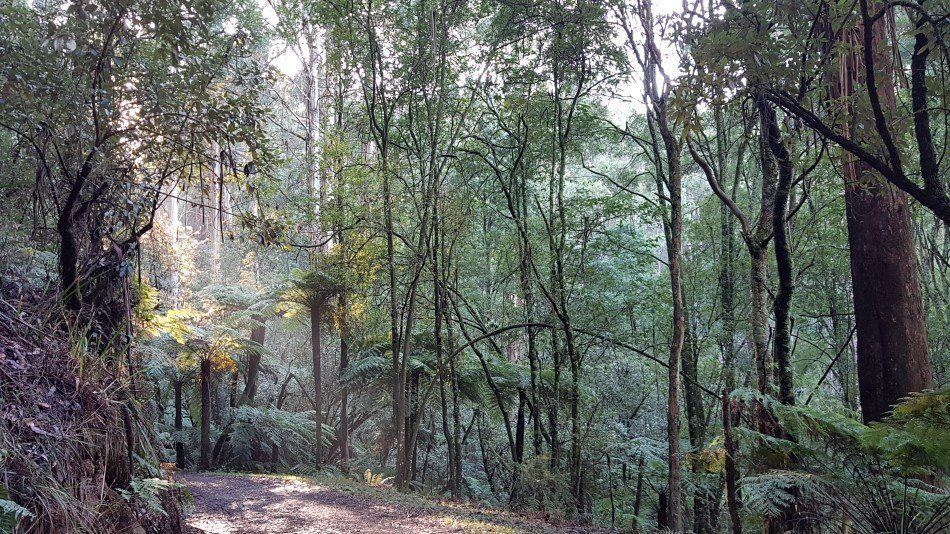 Doongalla Homestead Walking Tracks
WALK NOTES:
Walks vary in distance, all tracks have some steep sections and can become slippery when wet.
Mountain Bike Riders and Horse Riders may be present on some tracks, take care.
Toilets are available at the Stables picnic area.
Open fireplaces (B.Y.O. wood)
Picnic tables | Water taps available
Parking at Stables Picnic area or Homestead area.
PUBLIC TRANSPORT: There is no easy way to reach Doongalla by public
transport as it would involve a hike to get there. It is possible to go to Burkes
Lookout (walk no. 2) and walk down Zig Zag/Channel 10 racks to Doongalla.
Stables Loop Track
45 mins – 1 hour 2.3km
Easy > Moderate > Hard
The relatively short stretch of this walk when it joins Bill's Track is steep, though not impossible. Stop and breathe…
From the Stables parking area, walk across the picnic ground to find the beginning of Stables Track. Follow this track until it joins Bill's Track and then turn right. Trudge uphill on Bill's for less than 10 minutes until it joins Camelia Track. Turn right and continue along Camelia track until it reaches the unsealed road where you then walk back down to the car park and picnic area.
OR
Turn left on the unsealed road and walk up to the top picnic area and the old steps. From here you can join Channel 10 track and go all the way to the top by Burke's Lookout or do a circuit walk that joins into Camelia Track again (3.6km)
Entry to Doongalla Homestead is from the base of the Dandenongs, along Doongalla Forest Road. Ridge Track leads off at the entry, heading up towards the top of Mt Dandenong. Other tracks lead off to vary walks in all directions.
Doongalla Forest Road, approximately 2 km's of unsealed road leads to the site of the Doongalla Homestead and picnic grounds.

Top picnic area on the site of the old homestead. A building that housed servants to the homestead is nearby, nowadays being used by Parks Victoria.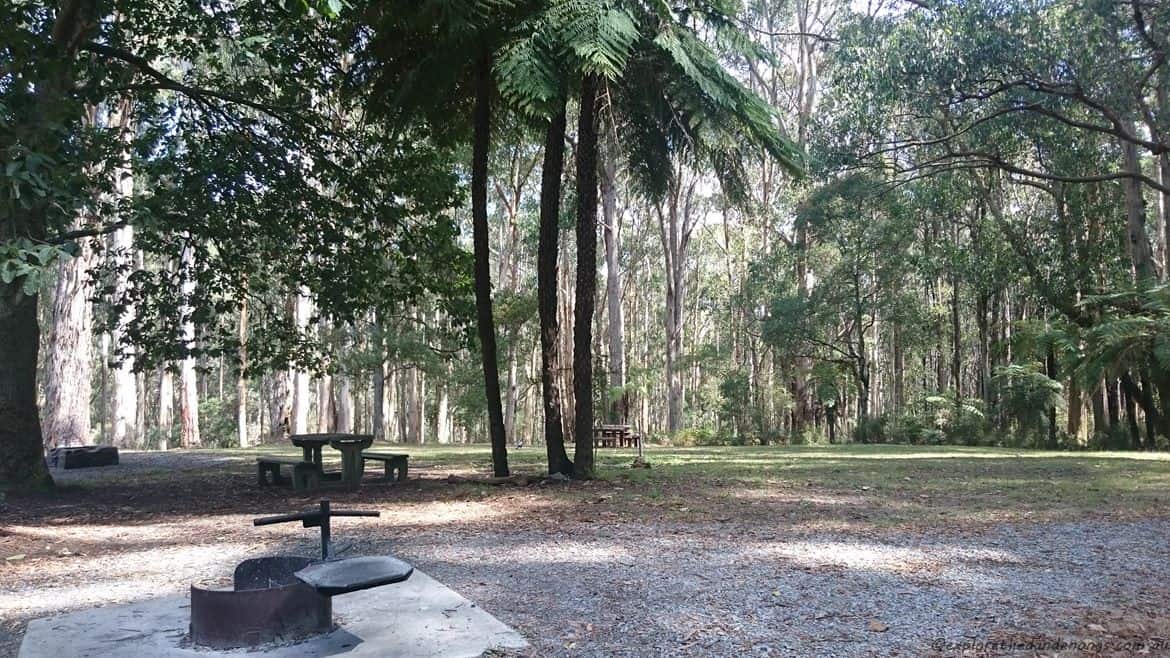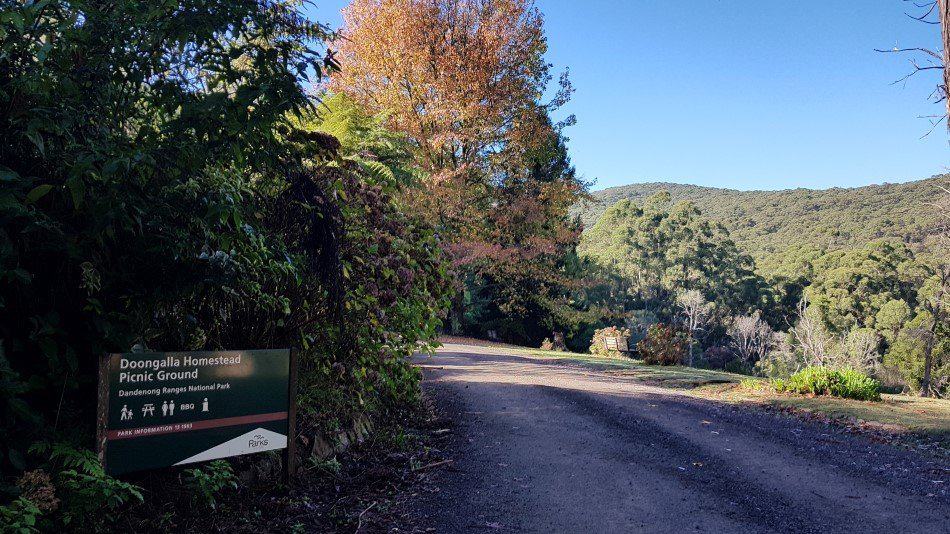 Stables Picnic area with BBQ spots and tables. Wood is required, b.y.o. The Stables Track leads off from the far side of the picnic ground.
Stables Track, a pleasant amble through the forest. joining up with Bill's track after about 10 minutes.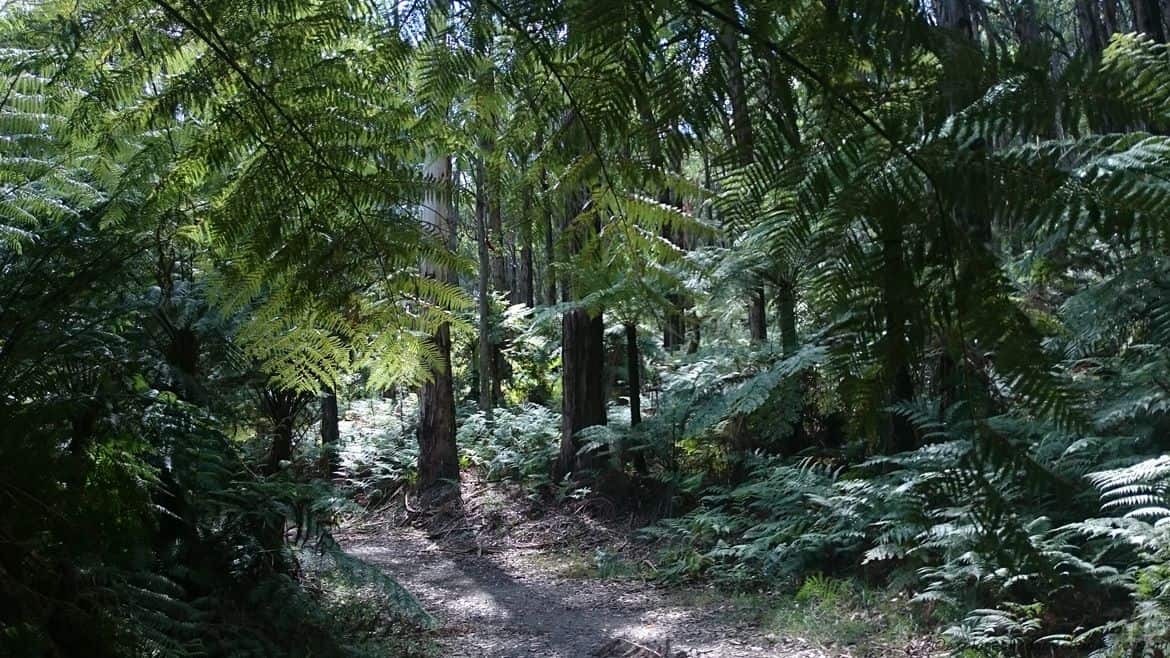 Stables Track, passing beneath tree ferns.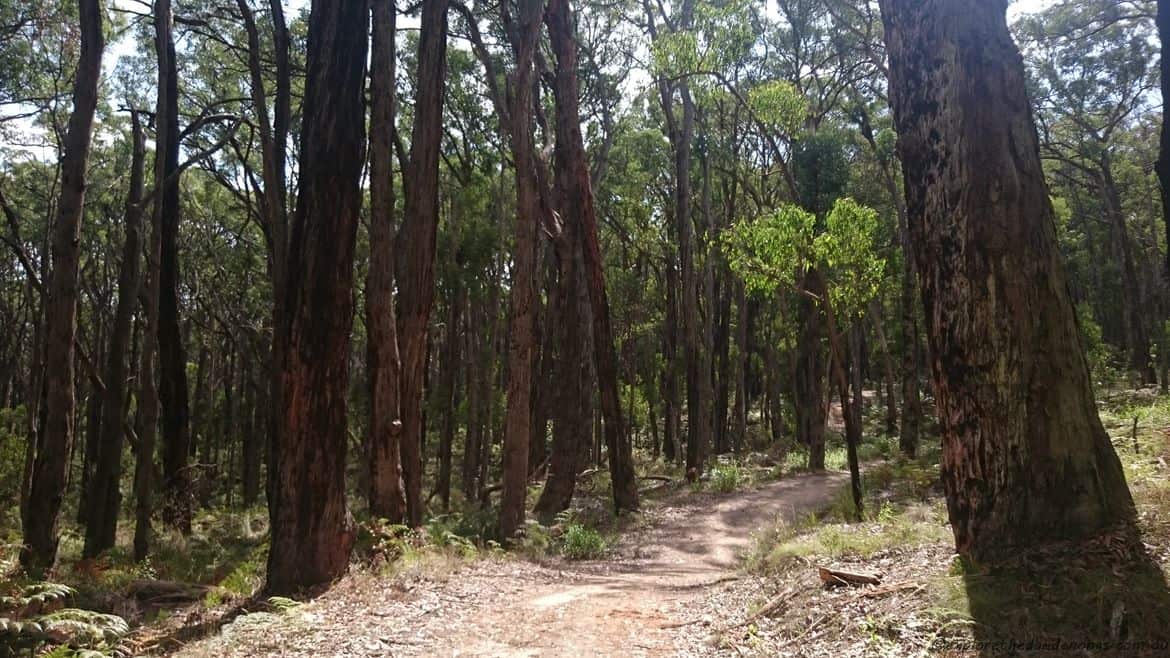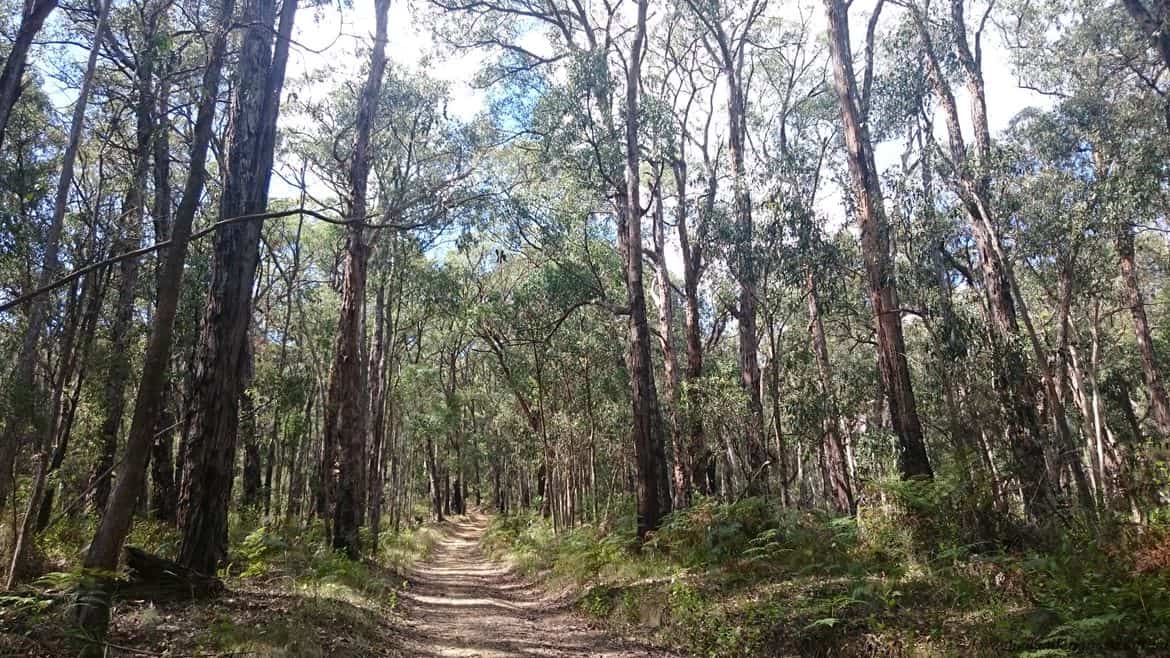 Bill's Track. Who says the camera never lies. Poppycock. This section is rather steep, not a long walk, though. Take your time… Mountain bikers use this track too, so be on the lookout for cyclists.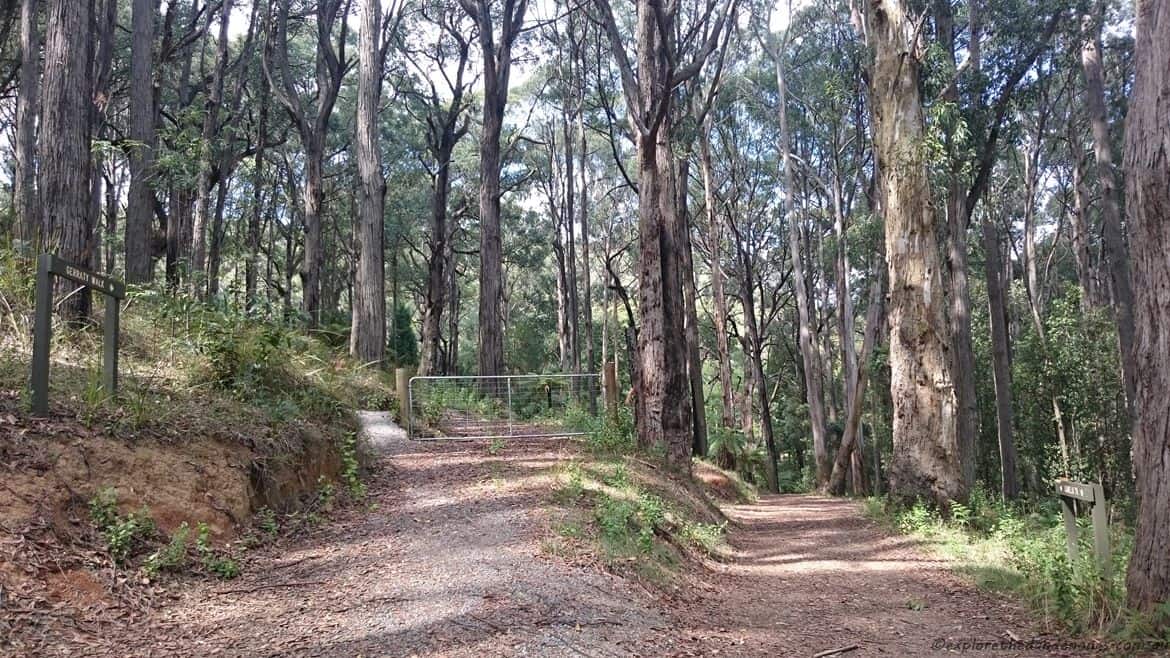 Bill's Track joins Camelia Track and is an easy section of the walk. Just before re-joining the unsealed road, Gerraty Walk leads off to the left. This is an optional spot to extend the walk. Use the Parks Victoria map app or whichever map app you may use, to decide on a route.