Horse Riding near Melbourne in the Dandenong Ranges
Some excellent riding trails can be found near Melbourne in the Dandenong Ranges. There is one local trail riding centre, Alan Smallacobe Trail Riding Centre, and a number of trails that private horse owners can use.
Horse Riding Trails in the Dandenongs
Horse riding along the western side of Mt Dandenong, through Doongalla reserve and up towards Olinda is a good trail with not too much riding on public roads.
The Mathias Track area links to Valley Picnic Ground and a good trail along the Silvan Dam fence line. Olinda Creek Road has a track running alongside for a lot of the way and is a good way to connect with this area of the forest.
Anyone not familiar with the Dandenong Ranges would be advised to explore the area by car and on foot prior to riding here. We are incredibly fortunate to have such a beautiful area to ride, please remember though that trails are often shared with walkers, families, bike riders, and dog walkers.
Where the designated trail crosses the Mt Dandenong Tourist Road towards Sherbrooke, there is no real off-road riding as it follows beside Sherbrooke Road and cuts down to Kallista. The trail ends with no access to the forest along Grantulla Road and is not particularly recommended as an ideal place to ride.
Our Favourite Ride?
Definitely in the Mathias Track area, down to Valley Picnic Ground, out along Boundary Road to the Silvan Dam Fence Line and up to the Hamer Arboretum and Woolrich Lookout!
The trails marked on the map below have been taken from the Parks Victoria PDF of designated horse riding trails (Feb.2017). Click the icon in the top right-hand corner to open in Google Maps.
Download the Parks Map App as a handy guide to all the walking and riding trails in the Dandenongs.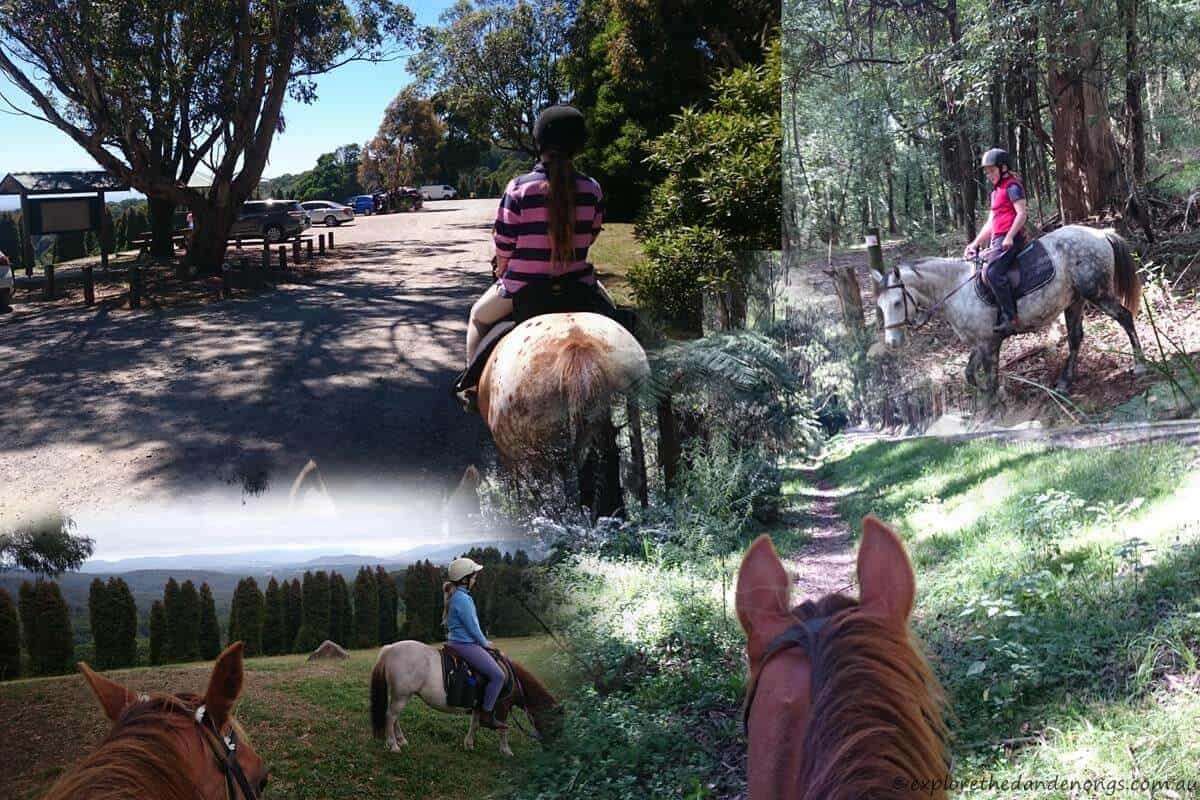 Top Left: Hamer Arboretum, passing through the car park.  Top Right: Coming down out of the Old Olinda Golf course onto Mathias Track. Lower Left: Having a munch and admiring the views from the Hamer Arboretum/Woolrich Lookout. Lower Right: Riding on the track alongside Chalet Road heading down towards the Hamer Arboretum.
---
Read regulations and riding notes on the Parks Victoria website where there is also a downloadable PDF of the trails marked on the map below.
Horse Riding & Safety
Riding in windy conditions or fire danger days is not advisable in the Dandenong Ranges and it is up to each individual to assess any possible hazards. Tree limbs can fall without warning.
Getting Here & Parking
Parking is very limited in the Dandenongs. If it is necessary to float horses here to then ride on the trails it is possible to park in the overflow area of Silvan Dam and use a combination of road and trails.
---