Horse Riding near Melbourne in the Dandenong Ranges
Some excellent riding trails can be found near Melbourne in the Dandenong Ranges.
There is one local trail riding centre, Alan Smallacobe Trail Riding Centre, and a number of trails that private horse owners can use.
Horse Riding Trails in the Dandenongs
Parks Victoria used to have a pdf map to download of the trails that horse riders could use. This has gone completely from their website it seems. Why, we don't know.
Parking for horse floats
Parking in the overflow parking by the Silvan Dan on Silvan Road is one of the easiest places to start a ride.
Where can you ride horses?
From the Silvan car park, riders can follow Silvan Road up along the fence line of the dam to Woolrich Lookout.
You can also ride on Mathias Track which is just under 4kms each way. From Mathias riders can follow Allambee Track down to Valley Picnic Ground and out along Boundary Road to Silvan Road again.
or Follow the Olinda Creek Road where there is a wide verge suitable for riding off the road.
This page will have to updated when we can get more information to include the trails that were marked on the Parks Vic map.
The Mathias Track area links to Valley Picnic Ground and a good trail along the Silvan Dam fence line. Olinda Creek Road has a track running alongside for a lot of the way and is a good way to connect with this area of the forest.
Our Favourite Ride?
Definitely in the Mathias Track area, down to Valley Picnic Ground, out along Boundary Road to the Silvan Dam Fence Line and up to the Hamer Arboretum and Woolrich Lookout.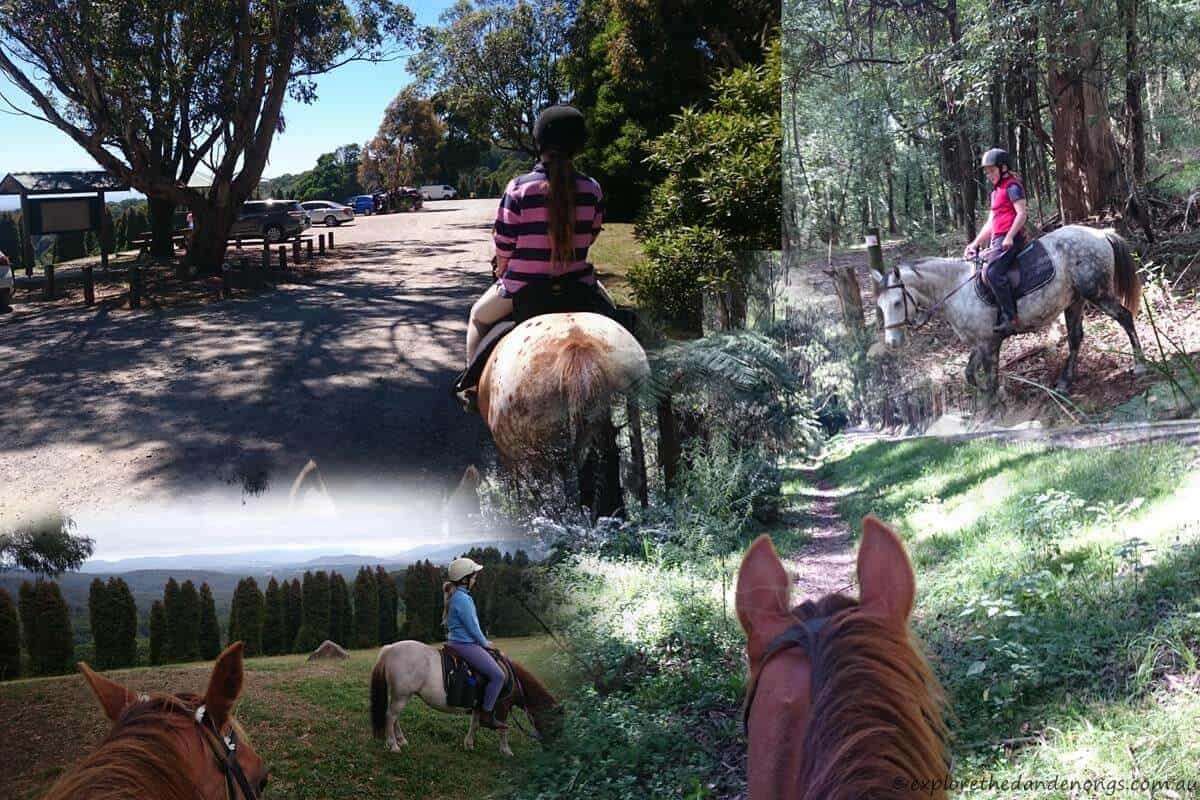 Top Left: Hamer Arboretum, passing through the car park.  Top Right: Coming down out of the Old Olinda Golf course onto Mathias Track. Lower Left: Having a munch and admiring the views from the Hamer Arboretum/Woolrich Lookout. Lower Right: Riding on the track alongside Chalet Road heading down towards the Hamer Arboretum.
Horse Riding & Safety
Riding in windy conditions or fire danger days is not advisable in the Dandenong Ranges and it is up to each individual to assess any possible hazards. Tree limbs can fall without warning.