Mathias Walking Track – Dog-friendly walk in the Dandenongs
This walk has become so popular with dog-walkers that super busy on weekends and public holidays. Dozens of cars line the road, so many people use the track at the same time that it is crowded and not always a pleasant hike. Mid-week, it is lovely as well as out of peak holiday times.
Mathias is on-leash only. No matter how well you feel your dog behaves, please do not let it run free and bother other walkers and dogs.
Mathias Track is well used by bush walkers, mountain bike riders and horse riders too. A lot of other bush walking tracks lead off from Mathias and so a short hike can easily be extended into a full day ramble in the hills.
For People Walking Dogs – This is another good option:
Rather than starting at either end of Mathias Track, it is a better option to park at the old Olinda Golf Course and let your dog off lead in the designated areas there as they can have a really good run. The views are amazing here, grab a coffee, and enjoy the parkland.
After that, walk down to the lowest left-hand corner of the former golf course and you will find access to Mathias Track where you can walk your pooch, on-leash. There is also a playground at the old golf course… let the kids have a run and play too.
Another trail to take is to walk down and across the old golf course towards the lower right-hand fence line where there is an access point to walk on Rock Track and around the Hamer Arboretum. These trails are on-lead only but after a romp on the golf course, your furry friend can not really argue. Get Directions to the old Olinda Golf Course.
The Walk
Whilst Mathias Track is super popular with bushwalkers, horse riders, mountain bike riders and people looking for a great hike to do that is dog-friendly, It is not quite as busy or manic as the famous 1000 Steps!
It is a fairly easy walking track that runs below the Dandenong Ranges Botanic Garden (formerly the National Rhododendron Gardens & not dog-friendly), the old Olinda Golf Course and the beautiful Hamer Arboretum.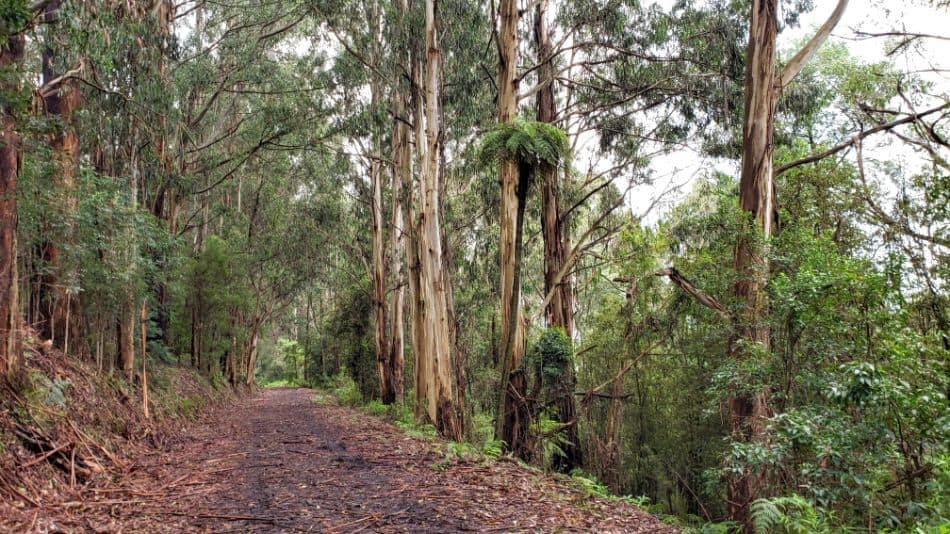 The entire walking track is just under 4 km each way and extends all the way from Falls Road to Silvan Road, with a number of other tracks leading off along the way, providing opportunities to extend the walk and go deep into the forest below.
Dense forest on either side of the track opens up with occasional views across to Silvan and the Yarra Valley, autumn colour towards the Silvan Road end of Mathias Track is often really pretty and a popular spot for photographers.
Walk Notes
Mathias Track is quite a wide track and no directions are needed to follow this route.
Toilets: No toilets on the track, nearest public amenities are near the playground on the old Olinda Golf Course or at the Hamer Arboretum.
Dog-friendly – On leash only. Parks Victoria Rangers regularly drive on Mathias Track every day of the week. Please, keep dogs on the lead for the safety and comfort of every other user, and to avoid the risk of a fine. Please read the information below to see where you can have your dog off-lead near Mathias Track. Find dog-friendly cafes and more walking trails here.
Get Directions to the Silvan Road end of Mathias Track or directions to the Falls Road end.
Get Directions to the old Olinda Golf Course.
Public Transport:
Train to Upper Ferntree Gully or Croydon and bus route no. 688. Get off in Olinda and walk along Olinda-Monbulk Road to the old golf course and walk down from there or get off the bus in Mt Dandenong Village or by the Pig and Whistle Tavern and walk down Dickens Street to Fordyce Road then left onto Falls Road to Mathias Track.
Dog Walkers – Where to run your pooch off-lead.
The old Olinda golf course is a fabulous walking area where dogs can be off lead and they will generally always have lots of company. Many locals walk their dogs here and it has some of the best views in the hills.
From the former golf course in Olinda, walk down to the lowest left-hand corner and you will find access to Mathias Track where you can walk your pooch, on-leash. It is a good walk with amazing views.
Dogs can be let off lead just inside the golf course. Markers indicate the boundaries. The old golf course is a fabulous area, take a picnic or walk to the very top of the course and buy a coffee and snacks. from Cathy who runs Oscar the Vintage Coffee Van from Thursday to Sunday. Check 'Oscars' Facebook page out.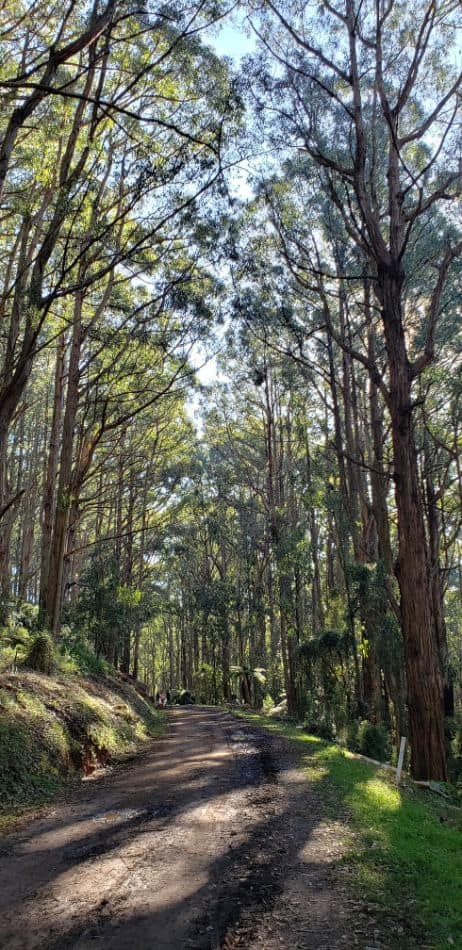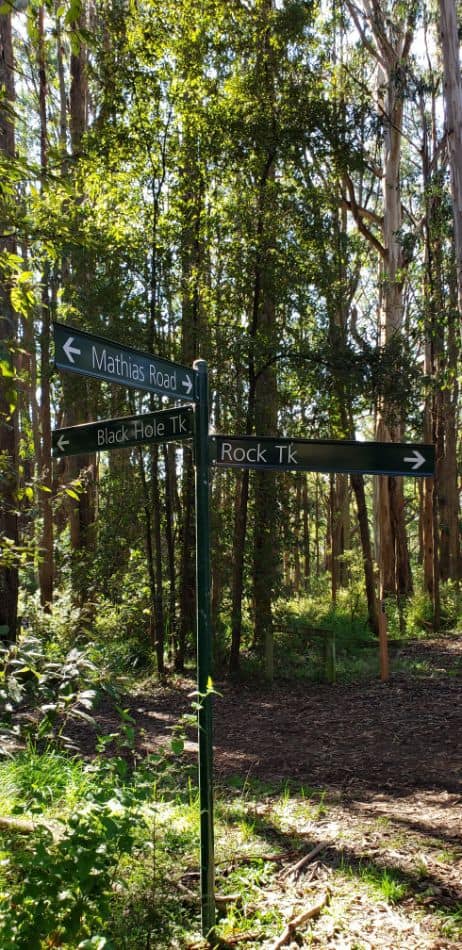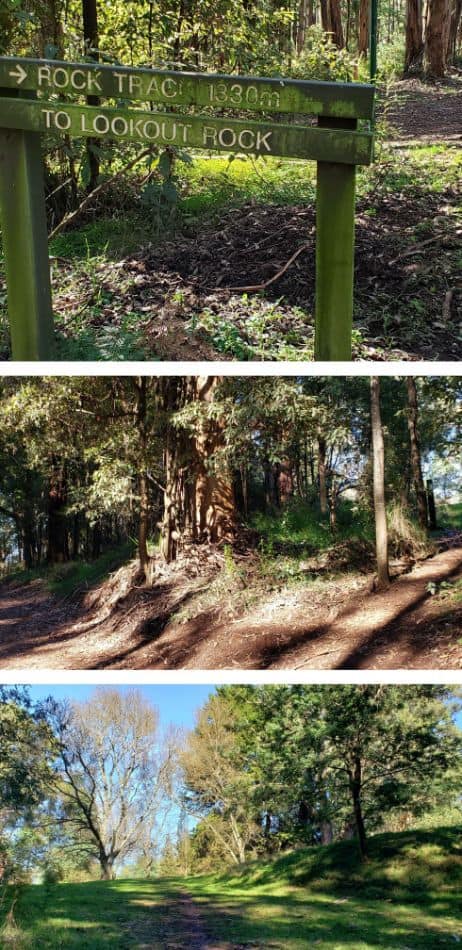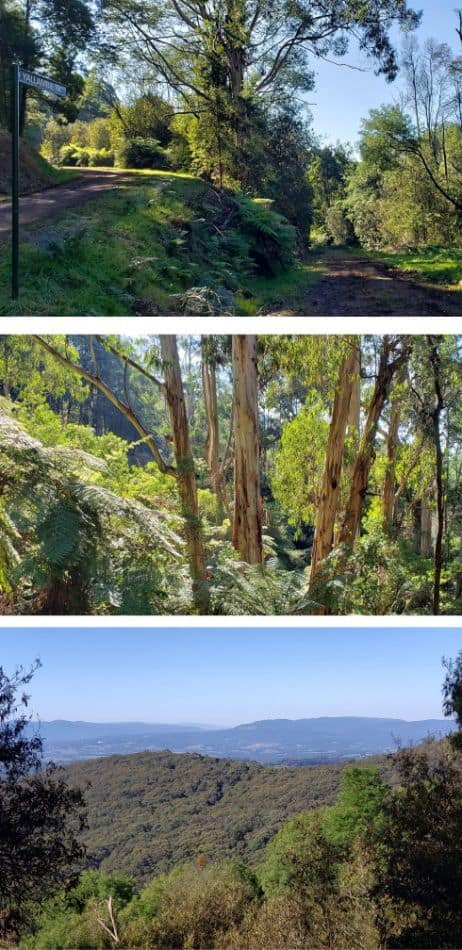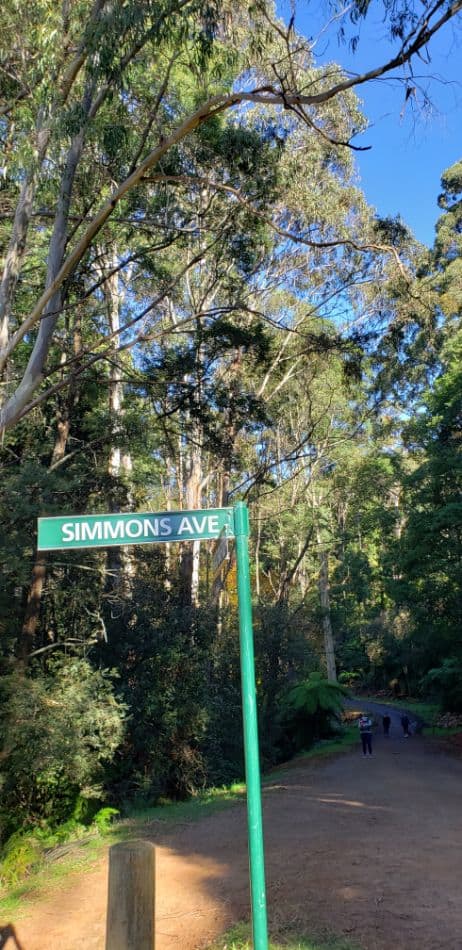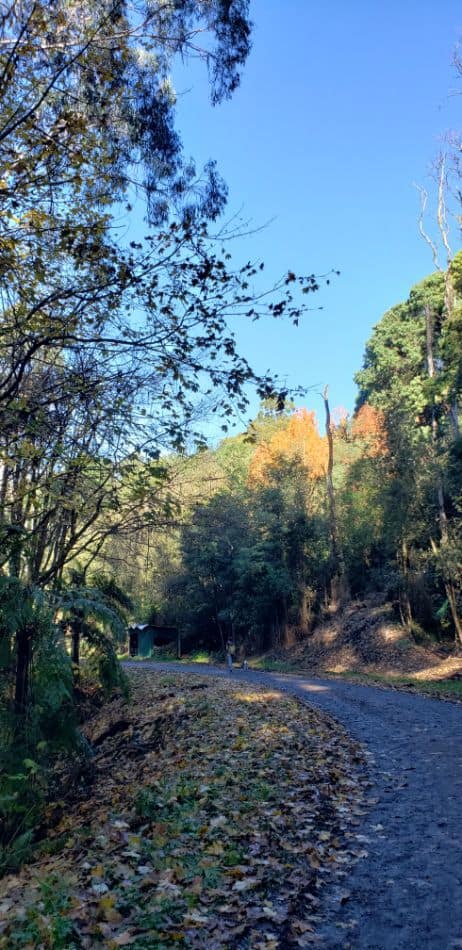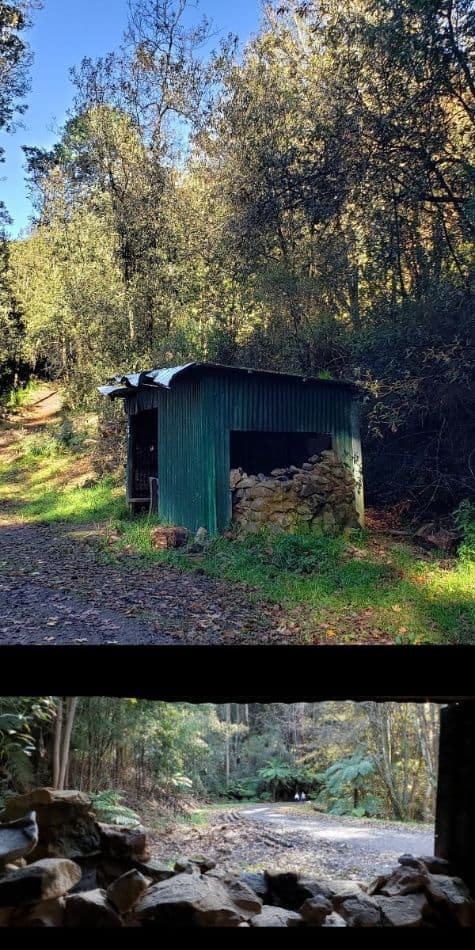 Nearby Accommodation
Stay in the Hills and wake up to the sound of the wildlife. One of the closest accommodation options near Mathias Track is a Vintage Caravan, set on 5 acres, it is an ideal base for exploring the area. Visitors can park their cars and hang up the keys as walks and shops are all within easy reach.
Browse the unique stays offered on Air BnB from the search box below or discover other fabulous places to stay here.
More Walks Nearby