Dandenong Ranges Playground, Olinda
This has to be one of the best playgrounds near Melbourne, with a spectacular setting, lots of activities and equipment for kids to play on, and gorgeous views out across the Yarra Valley.
There is also a wonderful off-lead dog walking area on the former golf course, everyone can bring their dogs along for a great day out in the Dandenongs.
With plenty of spots to have a picnic and a playground for the kids, this is a really popular destination.
Where is the Olinda Playground?
Location: 75 Olinda-Monbulk Road, less than 1km from Olinda Village.
Get Directions to the playground by car.
By public Bus: Catch a bus to Olinda Village from Upper Ferntree Gully, Belgrave or Croydon train stations, then walk about 5-8 minutes down the Olinda Monbulk Road.
Find out more about using public transport to get to the Dandenongs here.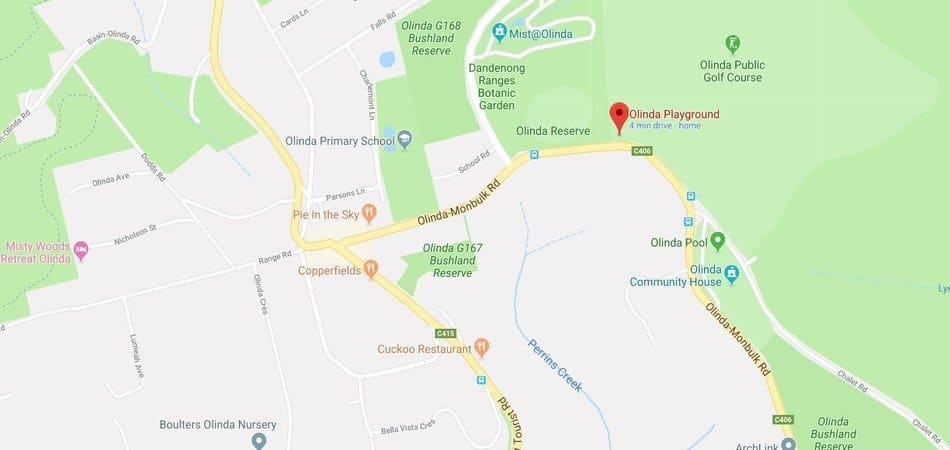 The Olinda Playspace features:
Flying Fox
Slides
Cubby Houses
Water Features
Swings and swing baskets
A roundabout
Rope climbing area
Sculptures
Small inground trampolines
Shelter and plenty of tables and seats
A 2 burner BBQ – which is free to use
From Thursday to Sunday you will usually find 'Oscar' the Vintage Coffee Van in the carpark, serving up delicious coffee, hot chocolates, chai lattes and snacks.
Public toilets are also located at the playground.
The Olinda public swimming pool is about 200 metres away.
Sculptures and Art
Some super talented artists have been involved in creating unique elements to the playspace, we have watched Shlomit from Bushwood Creations in Warburton carving owls and a large totem pole that are just gorgeous. They are something everyone can appreciate and admire, along with the mosaics and other art pieces.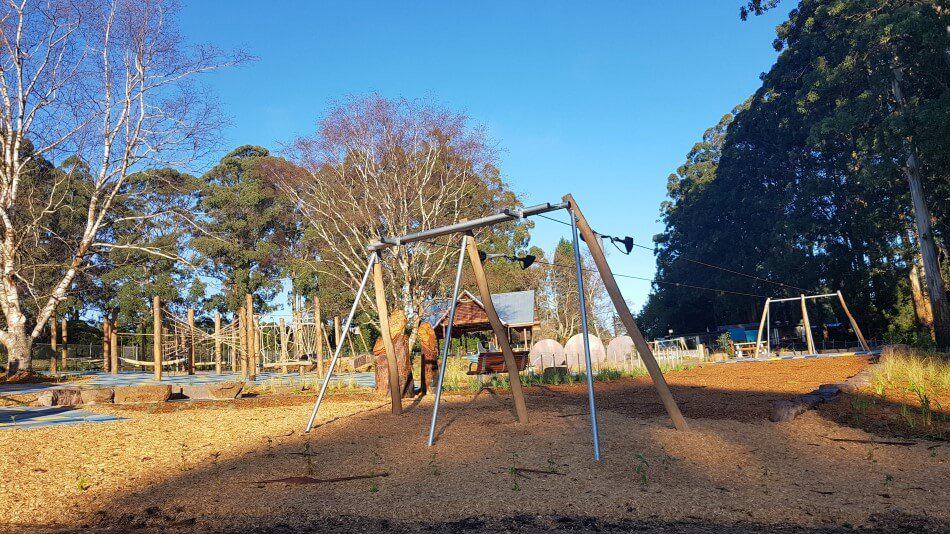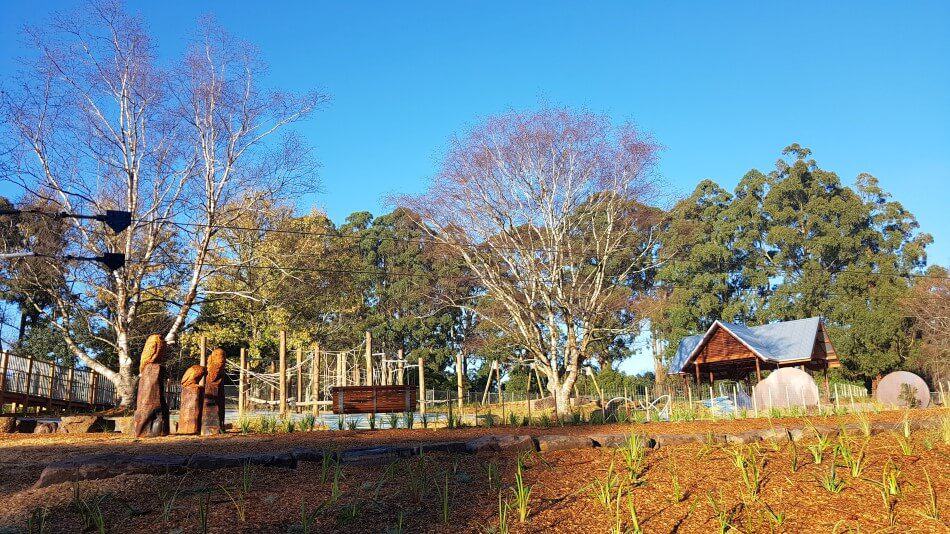 Lots of planting has been done to make the area attractive, please ask your kids to watch out for the plants and be careful not to squash them as many are still very small.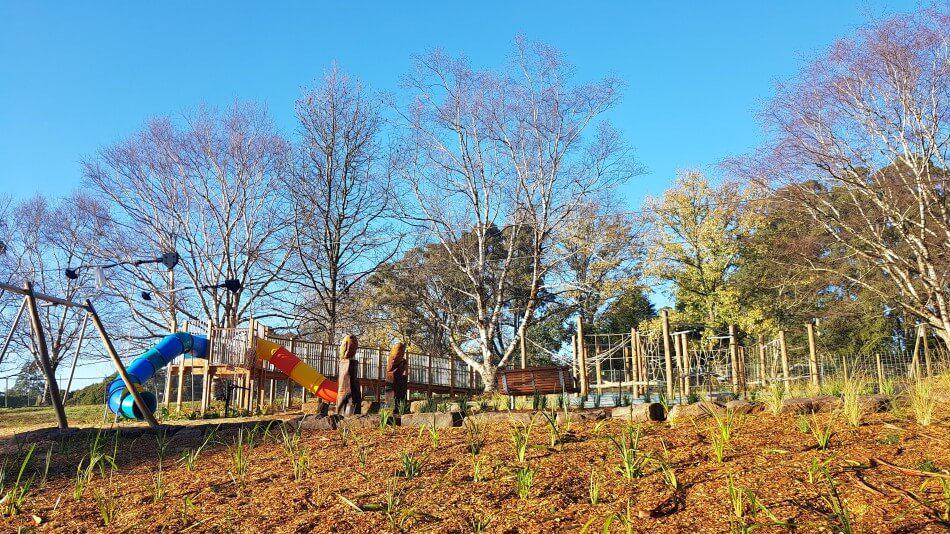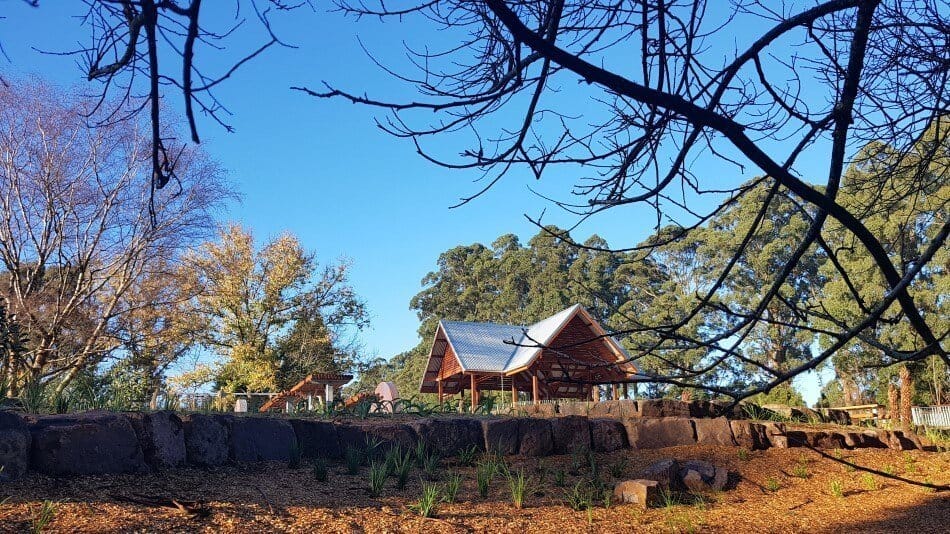 Picnic shelter in the centre of the playground, plenty of tables and benches plus a drinking water fountain.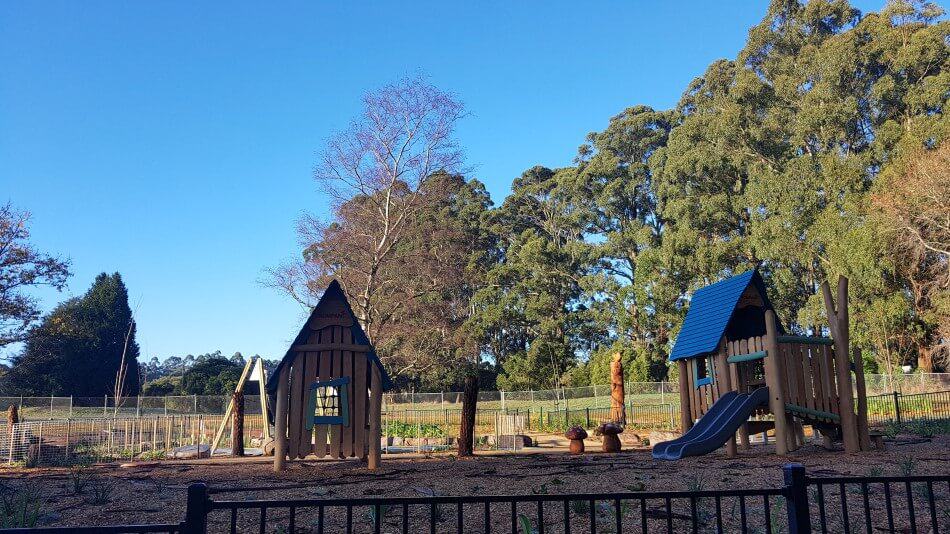 Winter 2019 & Snow at Olinda!
Destruction of our beautiful community parkland
A second sporting field has been built. Despite many locals campaigning for several years, trying to at least have this sporting field reduced in size or moved slightly to save the many mature trees (over 50 years old) on the top 3 fairways of the golf course, the plans were approved by the Yarra Ranges Shire. The sports oval plan was pushed forward by a 'steering' committee, lead by our own local politician (2019). Sad but true.
The parkland on the top levels of the old golf course, that were accessible and vital to many elderly people for walking on as well as people with serious health issues, has gone. The trees were wonderful for picnics, summer shade, autumn colours and as an inviting frame to the views beyond. Read more about this divisive community issue here.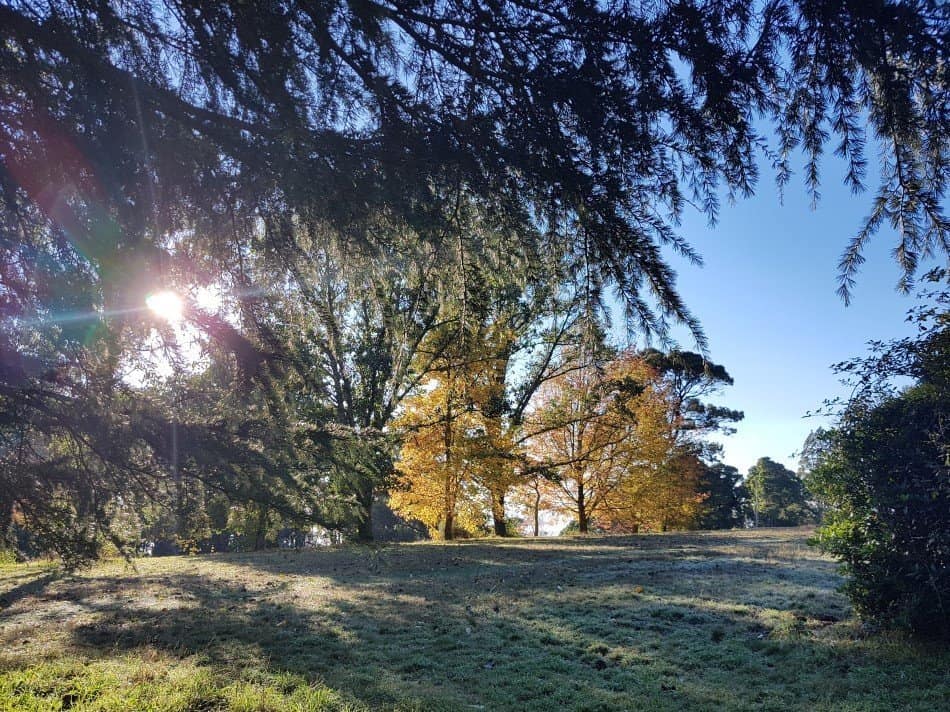 Other things to do nearby the Olinda Playground:
Walks are plentiful and a number of tracks lead off from this parkland. Mathias Track can be accessed from the very lowest lefthand corner of the land and Rock Track can be accessed from the top corner furthermost away from the playground.
The Olinda Community Pool is just along the road a couple of hundred metres from the playground.
The Trees Adventure Park in Belgrave is another fantastic place for kids as well as adults.
Cloudehill Gardens and a number of other public gardens are close by and the Dandenong Ranges Botanic Gardens are next door to the old Golf Course.