Picnic Grounds & BBQ's in the Dandenong Ranges
Views from the Dandenongs to inspire and Picnic Grounds to enjoy with friends and family. We are spoilt for choice when it comes to picnic grounds near Melbourne, the Dandenong Ranges have the best choices for all visitors. Some have superb views as well as facilities for picnics and bbqs. Almost all have walking trails that lead off into the National Park.
Best picnic spots Melbourne – The Dandenongs
Are you looking for:
Public BBQ near Melbourne?
Waterfalls near Melbourne? We have the pretty Olinda Falls and a picnic area.
Are you looking for a place to see Kangaroos? Cardinia Reservoir Park is ideal!
Dandenong Ranges Attractions? Have a picnic or bbq and experience the local attractions.
---
Please be aware that:
Some of these parks are locked at night, check opening and closing times when entering.
Please keep in mind that occasionally bbq facilities may be out of order in some parks. Read information regarding the use of BBQ's on total fire ban days.
The list below of picnic areas in the Dandenong Ranges National Park is in alphabetical order.
---
Baynes Park Reserve, Monbulk
Between Kallista and Monbulk, a few picnic grounds are available -Kays, Kensley, Olympic and the Baynes Park reserve.
Baynes Park is beside the public swimming pool and has a playground as well as a recreation oval to play on.
The 15km Sassafras to Emerald Tourist Track passes by Baynes Park and sections of the historic walking track can be used as shorter day walks.
BBQ's and tables
Public swimming pool and playground
Public toilets
Dogs allowed, on-lead
Directions to Kays Picnic Area | Kensley Picnic Area | Olympic Picnic Area
---
---
Cardinia Reservoir Picnic Grounds and Kangaroos
The Cardinia Reserve, off Wellington Road, is the perfect spot for seeing Kangaroos, having a picnic and enjoying a short bushwalk.
Plenty of space for the kids to play as well as a playground and bbq's.
---
Doongalla Homestead Reserve, The Basin
Doongalla Homestead picnic area is a beautiful setting, with some really good bushwalks too. The 20km Skyhigh to Upper Ferntree Gully walk passes through as well as shorter loop walks from the park. The homestead is no longer there, but remnants of the gardens remain, one of the prettiest spots in spring is beneath cherry blossoms on what was the front lawn of the homestead.
---
Eagles Nest Picnic Ground, Silvan
Eagles Nest is a quiet picnic area with a few tables and grassy areas. Entering from Silvan Road, the area is quiet and does not get the crowds that some of the other well-known areas get.
There is a good loop walk from Eagles Nest to Valley Picnic Grounds as well as numerous tracks that lead down from The Hamer Arboretum and off Falls Road.
No BBQ or toilet facilities.
---
Emerald Lake Park
Gorgeous autumn colours, a pretty lake with paddleboats, playgrounds and walks in the woods as well being a stopping off station for Puffing Billy Steam Train, this park has plenty to keep visitors busy. The Emerald to Cockatoo/Gembrook bike and walking path passes through the park too.
Find out more about what to do and see at Emerald Lake Park.
BBQs and picnic tables
Toilets
Playground
Paddleboat hire
Swimming pool (summer)
Model Railway
Walking Tracks
---
Grants Picnic Ground, Kallista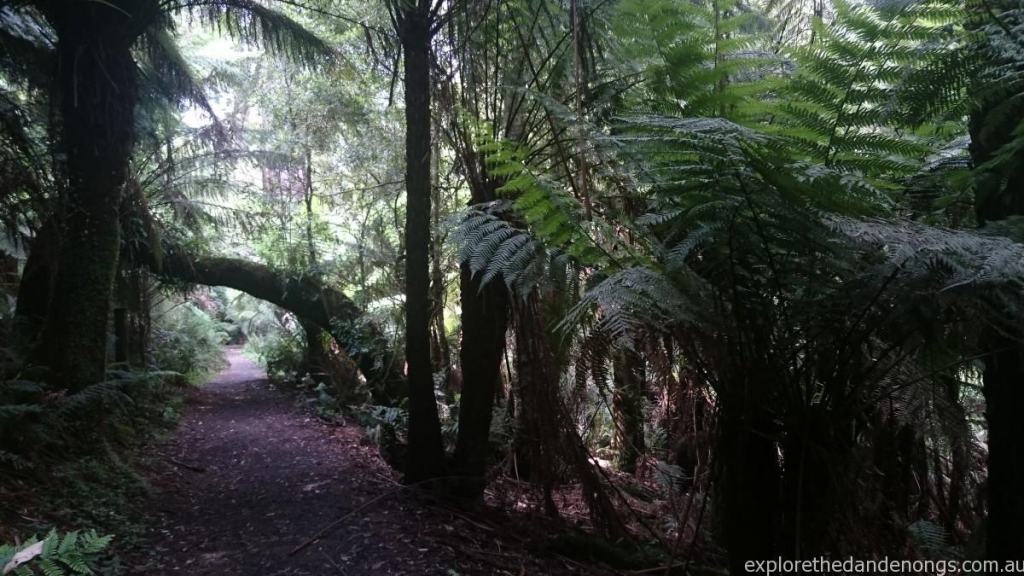 Grants picnic ground is definitely one of the most popular picnic and bbq parks in the Dandenongs. Just a short drive from Belgrave or an easy walk along a nice trail.
Bird feeding has always been a major drawcard at Grants Picnic Ground and that park was a wonderful place to see the native Crimson Rosella's, King Parrots and other small birds. Then the big white Sulphur Crested Cockatoo's took over and few of the little birds can be seen at the feeding area. Bird feeding will be completely banned from February 2020, but this is still a lovely park to visit. Plenty of BBQ areas and lots of walks leading off from the park, such as the short Hardy Gully Trail and the Lyrebird walk.
Cafe and gift shop
Toilets
BBQ's & tables
No dogs allowed
---
Hamer Arboretum, Olinda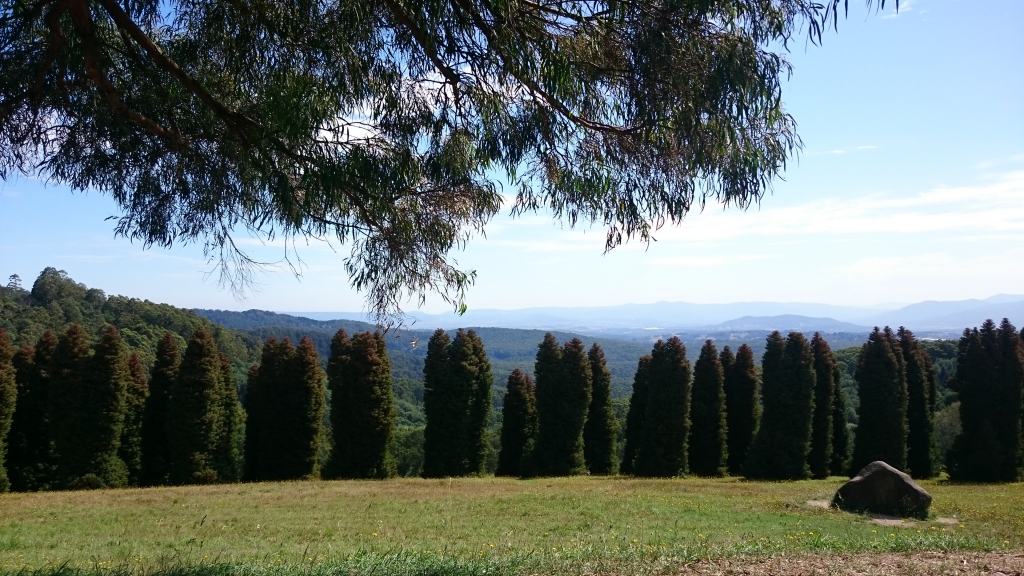 Wonderful views across the valley, miles of bushwalks, and a bbq area, The Hamer is one of the loveliest picnic areas in the Dandenongs.
BBQ area & Tables
Toilets
Dogs allowed on a lead.
---
Johns Hill Reserve, Kallista
Johns Hill Reserve and Trig Point, fantastic views across the bay and Mornington Peninsula plus out to the valley and the Great Dividing Range.
A couple of tables and plenty of grassy spots for a picnic.
No BBQs
No toilets
Dogs allowed on a lead.
---
Kalorama Park Picnic Area & Views


This pretty little park is just below 5-ways in Kalorama. A short walk from the park passes through forest and old orchards. The bbq shelter and picnic tables have a nice view down into the valley and towards Silvan dam.
Tables and shelter
BBQs (sometimes they are out of action).
Toilets
Dogs allowed on lead
Cafe across the road at 5-Ways on the main Tourist Road
---
O'Donohue Picnic Reserve, Sherbrooke
Close to the Sherbrooke picnic ground is the O'Donohue picnic and bbq area, usually a quieter spot and with walking trails in the Sherbrooke Forest available too.
Tables, water and bbq's
Public toilets
No dogs allowed
---
Olinda Falls Picnic Ground
The Olinda Falls picnic area is very popular as it is a short walk to the falls and a pretty setting. It does get very busy as a couple of fireplaces are available but parking is limited. An alternative spot to light a fire safely (apart from fire ban days) is up at the former Olinda Golf Course, where there is also a good playground for kids.
Fire pits. BYO wood. No BBQs
Public Toilets
No Dogs Allowed
---
Olinda Playground BBQ's and picnic tables
A bbq shelter and electric BBQ, as well as 4 enclosed fireplaces, are a feature of this picnic area. BYO wood, no actual bbq plates in the fireplaces but a great spot to sit with an open fire in the cooler winter months.
There is one double BBq plate by the shelter, there are no tables close to the bbq, as yet, so byo chairs, etc. or grab a table in the playground area. Otherwise, put out a rug and feast anywhere you please, super views in many spots.
Soon though, a second football field has been built right on the top of this amazing piece of community land. All the gorgeous, 50 plus-year-old trees from the top level, right beside the playground have gone.
The beauty of the top level of the parkland has gone. It was not necessary, the club could have had a training pitch there and left the trees for the rest of the community to continue to picnic under, for the kids to continue to make cubby houses under and enjoy, as they had been doing in large numbers for some time. The majority of the community did not want this but our local politician head a 'steering' committee to push this plan through (2019)
Some of the best walks in the Dandenongs can be accessed from this area, such as the Mathias Track/Rock Track circuit.
No open fires during total fire ban days
Electric bbq's
Tables and picnic areas with amazing views (in the playground)
Playground for the kids
Public toilets
Get directions to the Olinda Picnic area and Playground
---
One Tree Hill, Ferny Creek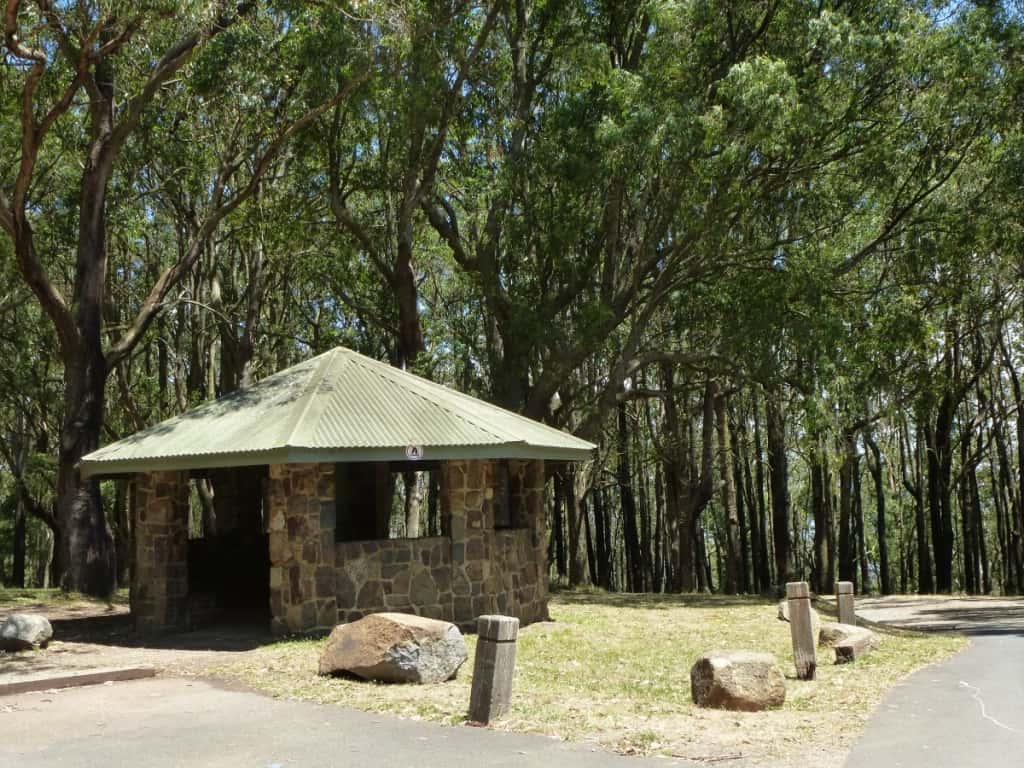 There used to be a wooden lookout tower here, last century, and the views from the top were superb. It has long gone, sadly, but the One Tree Hill picnic area is still a popular spot.
It can also be used as a destination or starting point for the One Thousand Steps walk and numerous other trails such as the Bellview Terrace walk. The 20 km walking track from Sky High, Mount Dandenong to Upper Ferntree Gully passes through this spot too.
Picnic Tables and BBQ's
BBQ/picnic shelters
War memorial plaques and information
Public toilets
No dogs allowed
---
Sherbrooke Picnic Ground
The Sherbrooke Forest picnic ground is a great spot for a gathering as it has a number of tables and electric BBQs as well as a number of walking trails intersecting the walk to the falls. It is possible to hike to this area from Belgrave as the Belgrave to Sassafras walk passes by.
Water taps, tables & bbq's
Toilets
Lots of Walking tracks through the Sherbrooke Forest
No dogs allowed
---
Silvan Reservoir, Silvan
The Silvan Reservoir picnic area is large with enough room for kids to play games plus there is a little playground.
Walk to the reservoir wall viewing area or through the short bushwalk by the park. Across the road is the Silvan to Mt Evelyn walking track.
Plenty of tables and BBQs for large groups
Toilets
Shade
Playground
---
Skyhigh, Mount Dandenong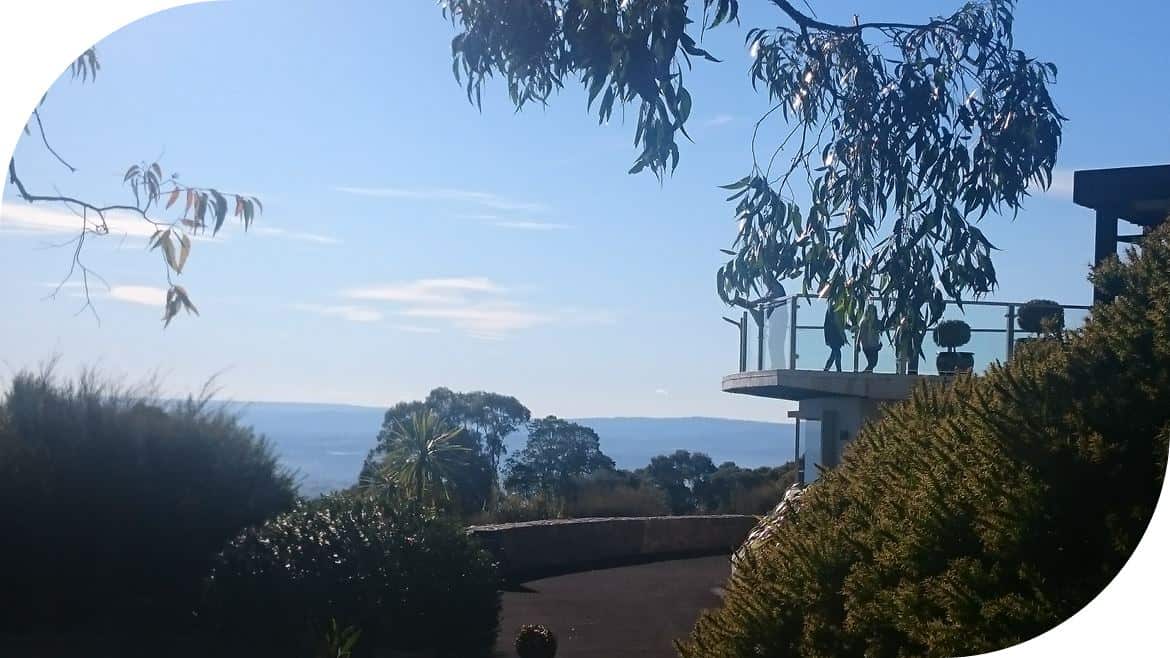 Famous for being one of the best viewpoints in the Dandenongs, Skyhigh is also a good spot for a picnic or go to the cafe/restaurant.
BBQs
Tables & Grassy areas
Toilets
Cafe/Restaurant
Parking fee applies
---
Valley Picnic Ground, Olinda
Near to Eagle Nest Picnic area, this is another quiet spot for a picnic and maybe go for a bushwalk.
Tables
No BBQs
No toilets
No dogs allowed
---