Hardy Gully Nature Trail, Grants Picnic Ground
Hardy Gully has everything the Dandenong Ranges are famous for, cool rainforest gullies and massive eucalyptus trees.
This would have to be the easiest short walk in the Dandenongs. Parking at Grants Picnic Ground, walk past the bird feeding area and a little further on your right, the beginning of the track is clearly marked.
For anyone with either limited time or no desire for longer walks – the Hardy Gully Nature Trail is one of the best short walks that can be found in the hills.
It is easy to catch the train to Belgrave and walk up to Grants Picnic ground on the Belgrave to Sassafras track or catch the bus from Belgrave.
Lyrebirds
Lyrebirds can very often be seen, go early in the morning or in the evening when it is quiet for more chance of seeing them without too many people on the trail. The Lyrebird walk loop which connects to the Hardy Gully walk is a lovely trail to see them too.
Parking is available at Grants Picnic Ground, Kallista
Total Distance: 7oom
Walking time: 15-30 mins
Easy grade walk, can get a little muddy in winter.
Toilets and parking available at Grants Picnic Ground.
Possible to push baby buggies.
No dogs allowed. Find dog-friendly walks here.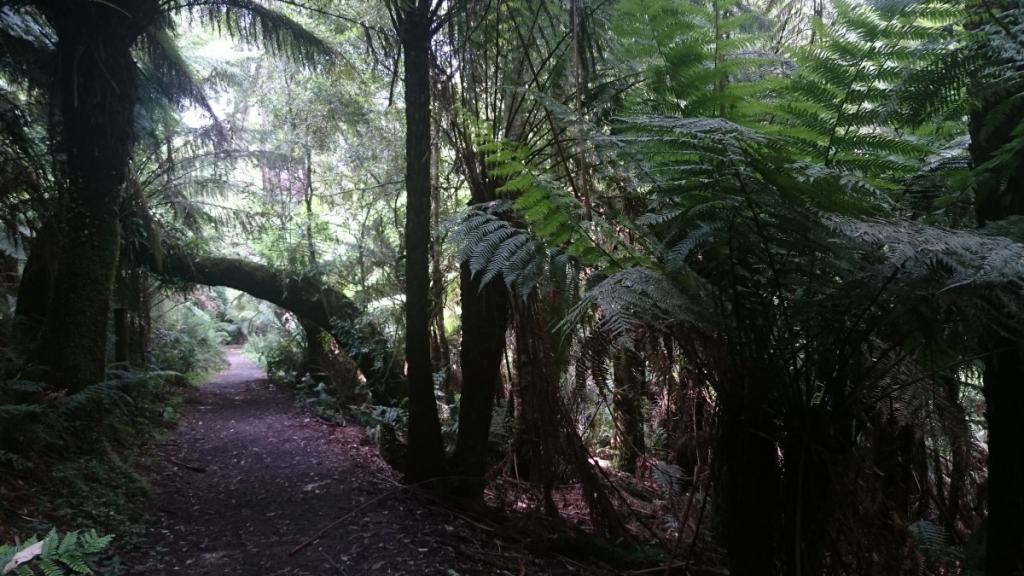 Grants Picnic Ground has a cafe, toilets, and picnic tables. Bbq's are free to use and available to everyone. It has long been a favourite spot for day visitors to the hills. Nearby Kallista has cafes and is an easy walk or drive up the road.
PUBLIC TRANSPORT: Train to Belgrave Station then local bus route no. 694 (to Olinda) or 663 (to Monbulk) It will take about 5 minutes by bus to Grants Picnic Ground or you can walk.