The circuit walk from Olinda to the top of Mt Dandenong and return
Arboretum, forest trails, waterfalls, spectacular views, rainforest…
Mountain Circuit Walk – Another superb walk in the Dandenong Ranges, 16 km's in a circuit starting in Olinda and going around Mt Dandenong. Definitely, a good bushwalk for packing a picnic lunch to enjoy on the way or stop in at a cafe' in Olinda or at Skyhigh Mt Dandenong.
The walk passes Olinda Falls as well as two fabulous viewpoints at Skyhigh and Burkes Lookout.
Walk Notes:
Distance: 16km approx.
Duration: 4.5hrs approx.
Parking at Olinda Recreation Reserve, Olinda-Monbulk Road or the Old Golf Course next to the reserve.
Toilets in Olinda village, Olinda Recreation Reserve, Olinda Falls & SkyHigh, Mt Dandenong
Rock Track / Golf Course Track is the same track, marked differently on various maps
Get Driving Directions to the Rec Reserve or old Golf Course parking
Public Transport: Train to Upper Ferntree Gully or Croydon and local bus route no. 688 to Olinda. Walk along Olinda-Monbulk Road to the recreation reserve to start the walk.
---
Mountain Circuit Walk
From the Olinda Recreation Reserve walk along the Olinda-Monbulk road towards Monbulk, past the old Golf Course, and then turn left down Chalet Road, just by the Olinda Pool.
A short way down Chalet Road, turn left onto the Golf Course Track / Rock Track.
Follow Golf Course Track/Rock Track, at the junction with Cornius Track, keep left.
At the 4 way junction with Mathias Track, go straight ahead onto Blackhole Track.
Join KC Track where it junctions with Blackhole Track.
Follow KC Track, turn left on Rifle Range Gully Track, look and listen for Lyrebirds…
Turn left after a couple of km's onto Bartlett Track.
Bartlett Track joins onto Falls Road, walk down Falls Road for about 200 metres to join Mechanics Track on the right, which leads to Olinda Falls.
Signposting is clear to Olinda Falls.
Return the same way and join the top section of Mechanics Track from the other side of Falls Road. OR walk up to the Olinda Falls Picnic Area (toilets available) turn left on Falls Road then right onto Mechanics Track.
Mechanics Track crosses over Farndon's Road and then continues up to finish at the Mt Dandenong Tourist Road (beside the Mt Dandenong Pre-School).
Cross carefully over the Tourist Road, there is a small track visible, walk up through the Mt Dandenong Arboretum.
Stay to the trail on the right through the Arboretum, coming to Ridge Road where you cross over to Kyeema Track.
Follow Kyeema Track, about 100m on the left is Trig Track, going up to the Mt Dandenong Summit. Cafe, views, toilets.
Return the same way and continue walking along Kyeema Track towards Burkes Lookout, about 1.5 km's away.
At the junction with Tower Track, turn right and head down the hill.
Turn right onto ZigZag Track, then left onto Channel 10 Track.
Follow Channel 10 Track until meeting Dandenong Creek Track, turn right, staying on Dandenong Creek Track until coming to the Olinda-Basin Road.
Turn left onto the Olinda-Basin Road and walk about 200 metres until Caterpillar Track on the right. Follow up Caterpillar Track which joins Dodds Track and then continues onto Dodds Road OR keep walking up Olinda-Basin Road for 1.2km's to Mt Dandenong Village and return to Olinda via the roads).
Dodds Road joins Range Road, turn left and walk the short distance back to Olinda.


---

Golf Course Track, also known as Rock Track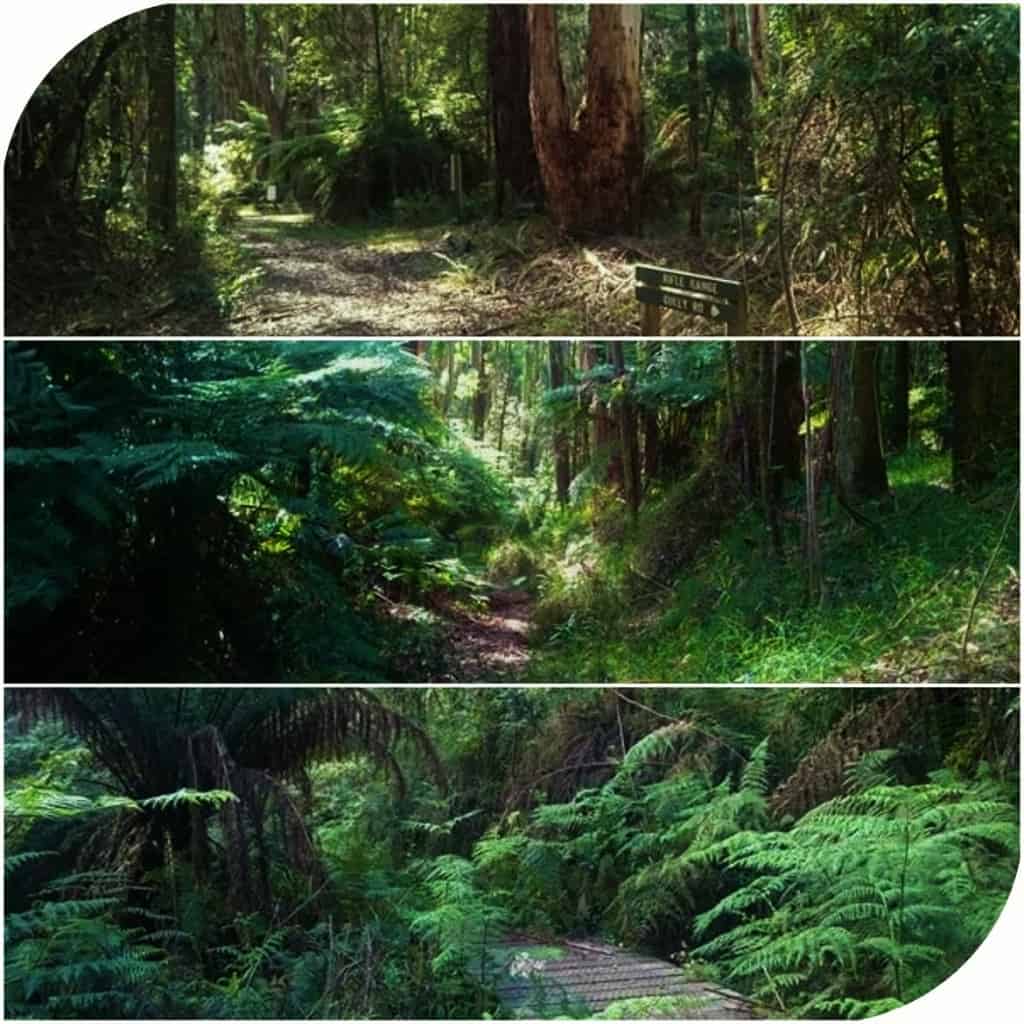 Rifle Range Track, look and listen for Lyrebirds!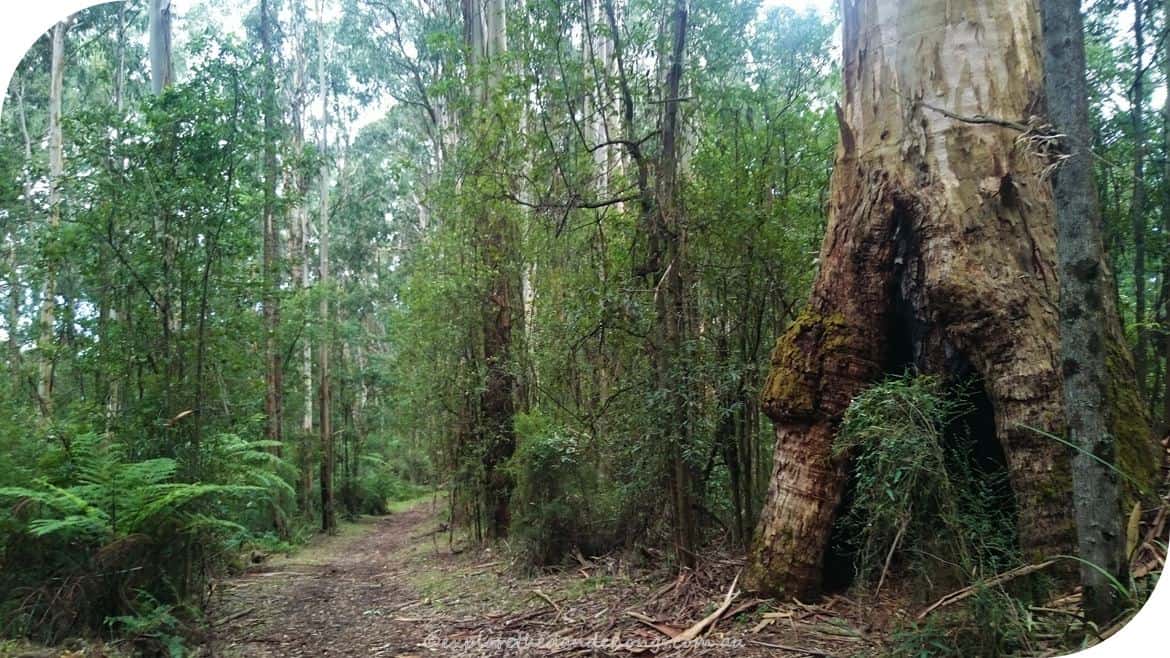 Bartlett Track, leading up to Falls Road.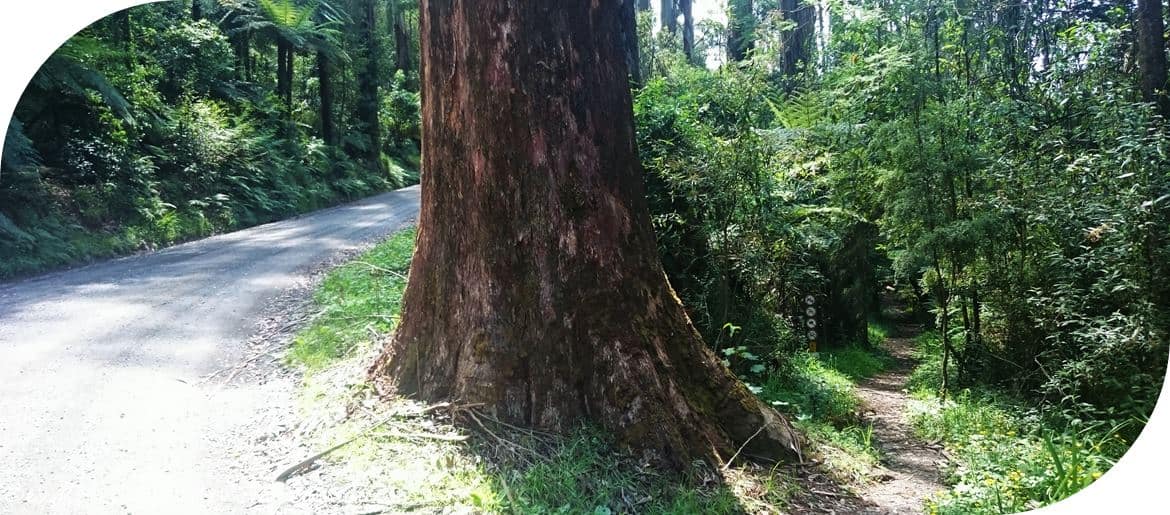 Mechanics Track heading down to Olinda Falls.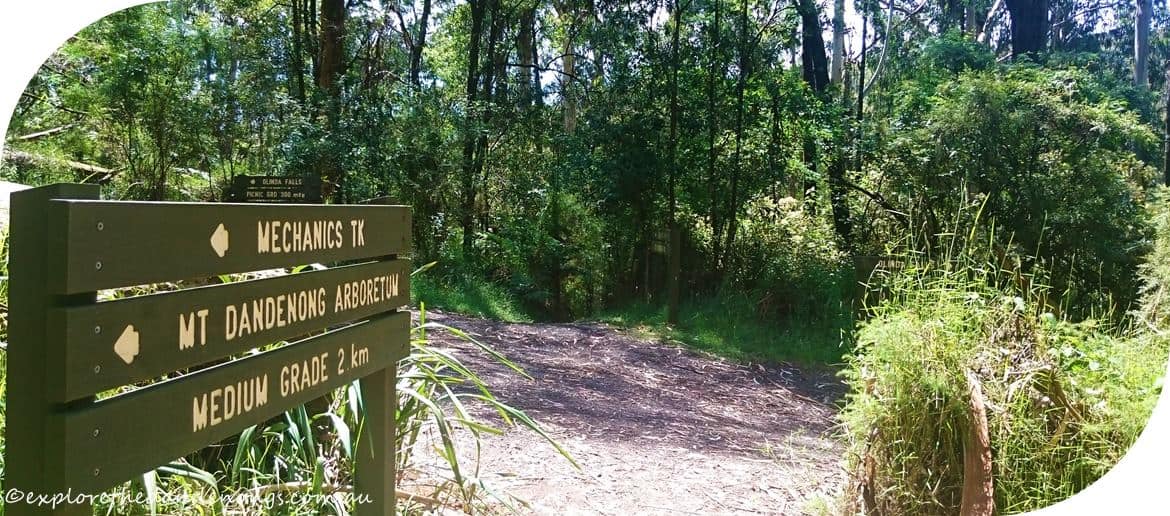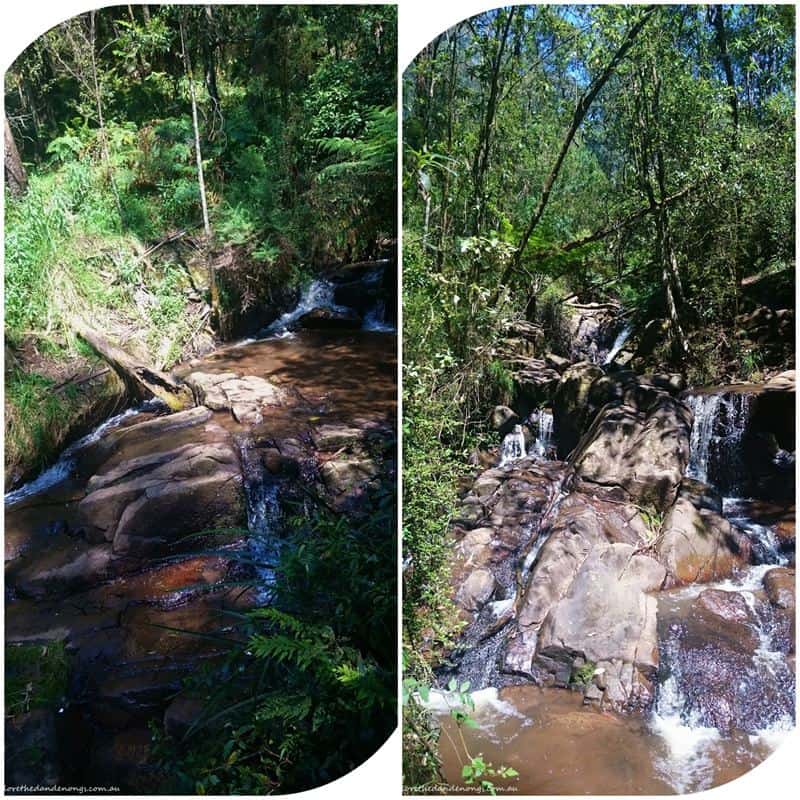 Olinda Falls: Top section (left image) and Lower Section (right image).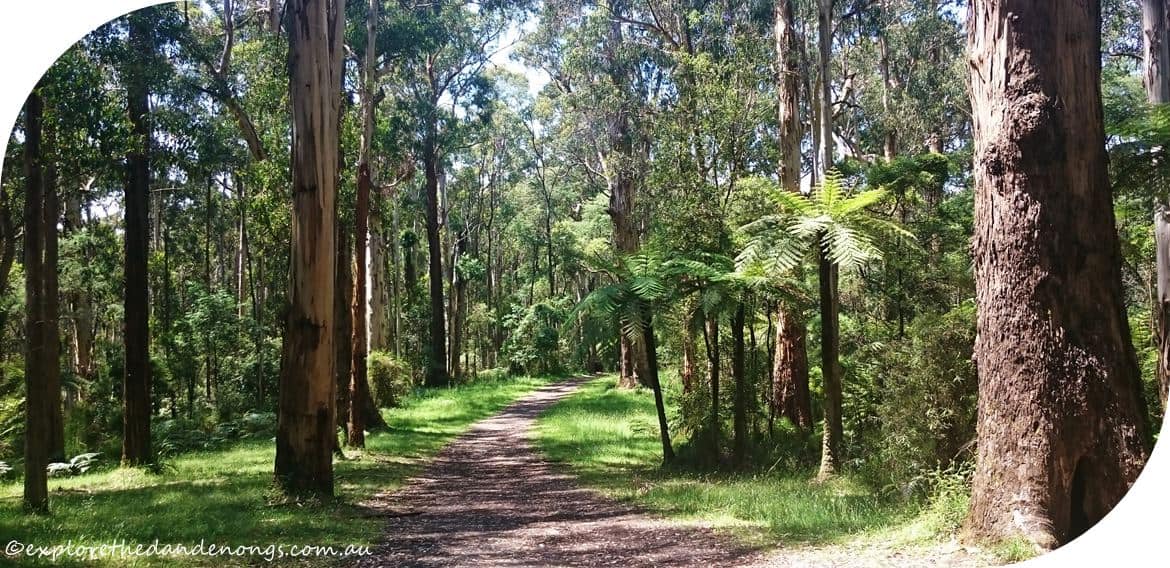 Main track returning from Olinda Falls to the picnic area.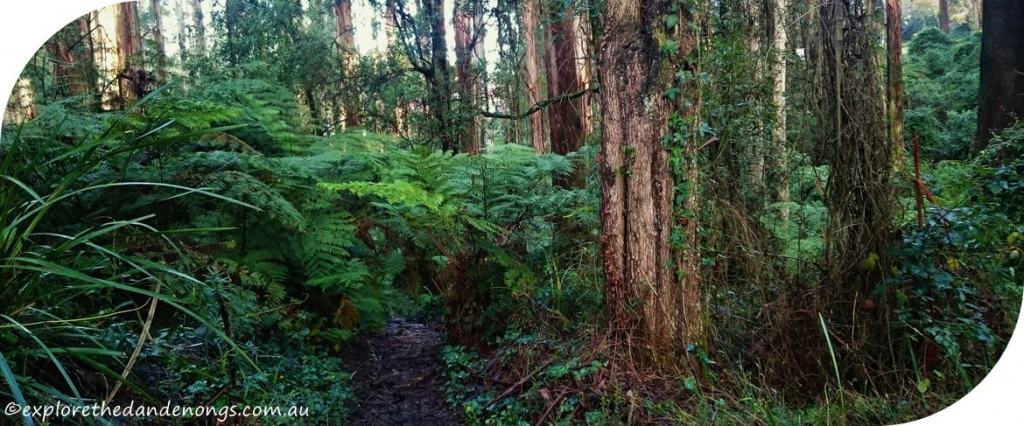 Mechanics Track.
Approaching the Mt Dandenong Tourist Road from Mechanics Track.
Top of Mechanics Track, crossing the Tourist Road and into the Arboretum from the small track opposite.
Mt Dandenong Arboretum

Top of Mt Dandenong Arboretum, cross over Ridge road onto Kyeema Track.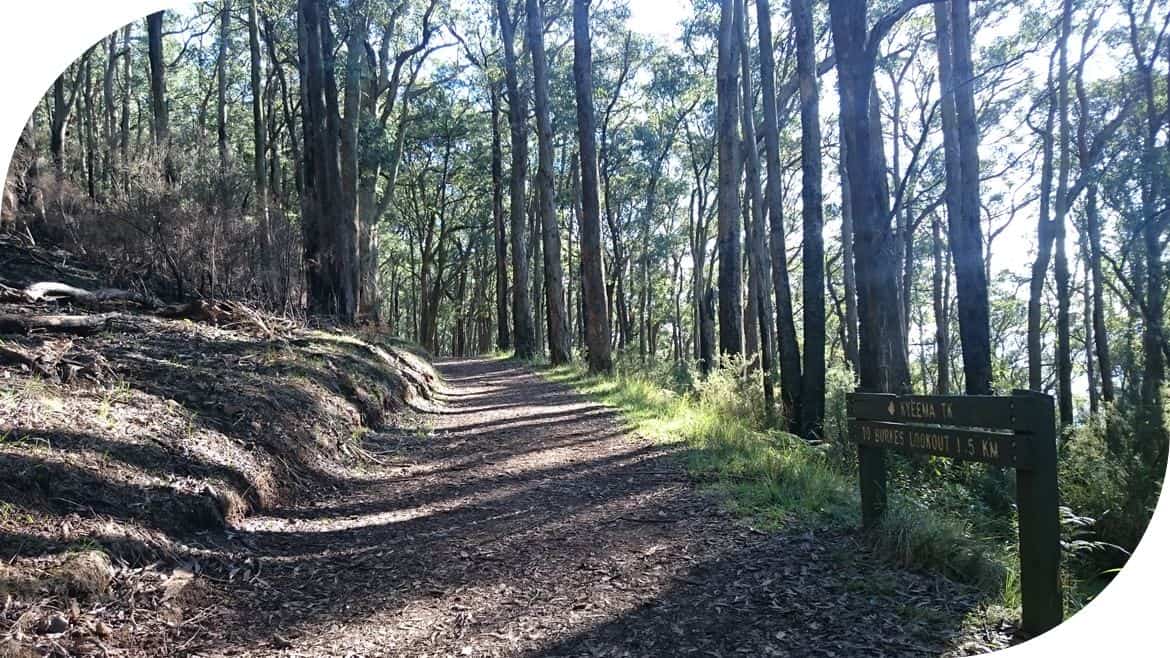 Kyeema Track.
SkyHigh, Mount Dandenong. Views to Melbourne and Port Phillip Bay.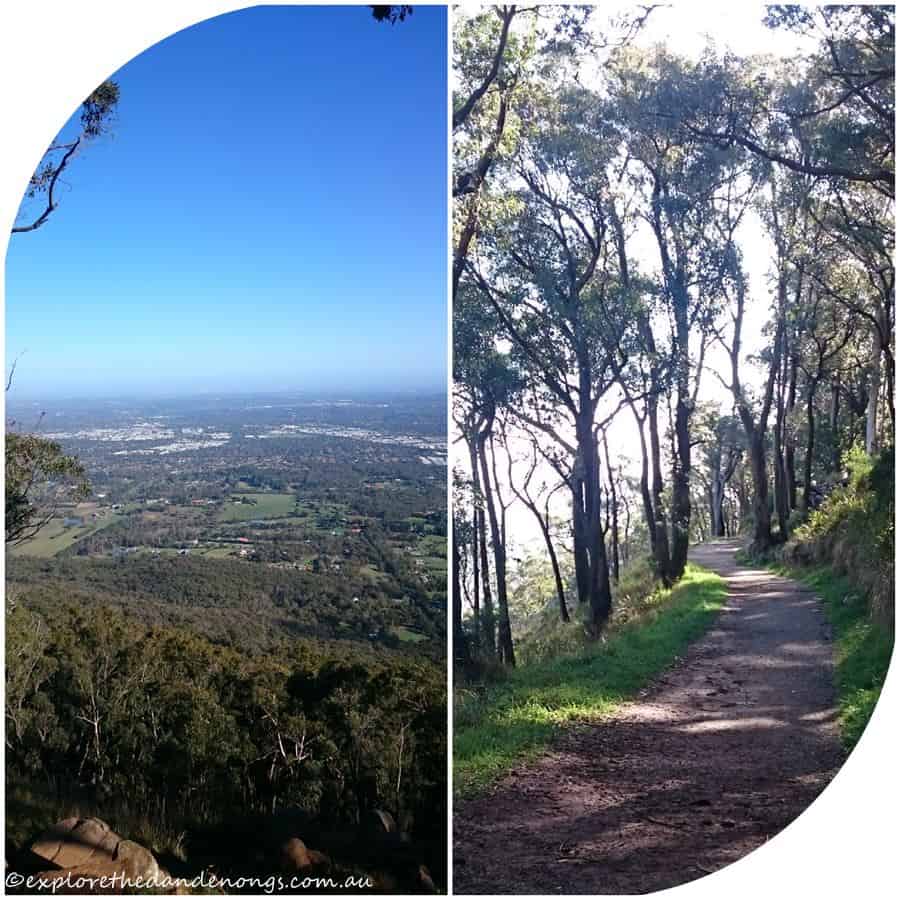 Kyeema Track and views from Burkes Lookout.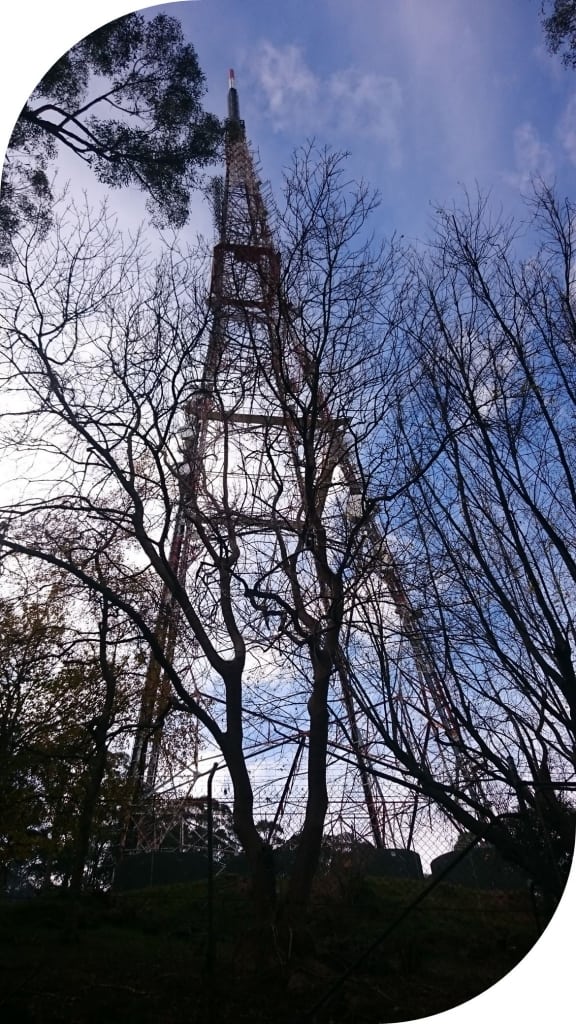 Channel 10 Tower from Tower Track.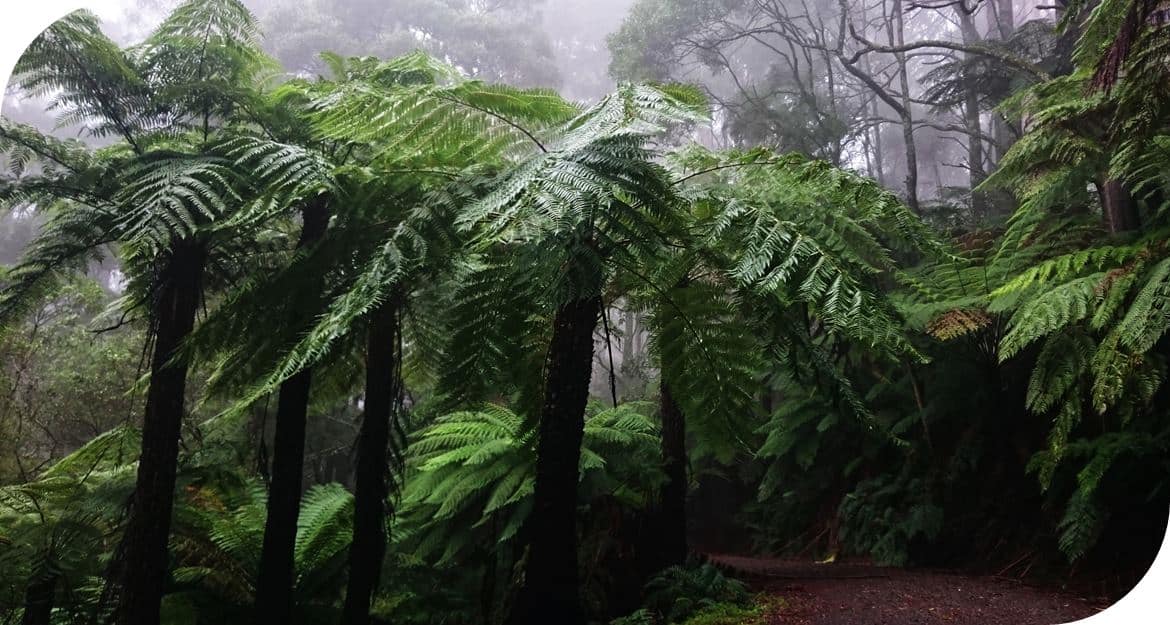 Dandenong Creek Track

Olinda Basin Road, turn right and walk up Caterpillar Track…
Dodds Track, not too far from the end of the walk in Olinda.