Olinda Falls Walking Track
Olinda Falls, one of the prettiest falls in the Dandenong Ranges, another nearby waterfall walk is to the Sherbrooke Falls.
To access the Olinda Falls car park, drive along the Mt Dandenong Tourist Road, Kalorama, to the Junction of Falls Road. Follow down until the sealed road ends and becomes a dirt road, the car park sign is visible on your right, about 1 km.
The walk to the falls is pretty, though a little steep in parts. The falls themselves are not huge, but worth the walk. After heavy rains and in winter, the flow over the falls is obviously greater.
More waterfalls, quite close to Melbourne, can be seen along the Great Ocean Road. The 7.5km walk from Lorne to Erskine Falls is particularly pretty.
Parking is available at Olinda Falls Car Park – Corner of Falls and Doughty's Roads
Total Distance: 600m to 1.6km (depending on the route taken).
Medium grade walks, reasonable fitness level required.
Toilets and parking available at Falls car park
Picnic tables, water, and a fire pit.
Not suitable for wheelchairs or prams.
Are dogs allowed at Olinda Falls?
No dogs are allowed at the Olinda Falls or within the park as it is part of the Dandenong Ranges National Park.
You can find dog-friendly areas and walking tracks here, the best off-leash dog walking area is at the old Olinda Golf Course, get directions to the course. There are also 4 wood burning fireplaces (byo wood) for use at the golf course, under shelter. It is ideal for families and groups to use as parking is available too. A large playground is also at the golf course, a perfect spot for families.
---
Walking Directions – Olinda Falls
From the car park, it is a 300-metre walk to the falls (each way). Simply head straight down and follow the signs. Coming back it is an uphill climb.
To make the walk a little more interesting:
Exit the car park onto Falls Road (on foot) turn left and walk down the road for about 3 minutes. When the creek passes under the road on the bend (as in the photo below) turn left and follow Mechanics Track through the bush. This section follows the Olinda Creek and the chances of seeing a Lyrebird are quite good. We saw 2 on our last walk there.
This path goes for about 5 minutes, before joining the path that comes directly down from the Falls car park. Turn right and follow the signs down to the falls.
Return by walking back up the path to the car park.
Total Walk, if doing the extra little bit, is 1.6 km and takes about 35 minutes. Not allowing for resting and enjoying the falls.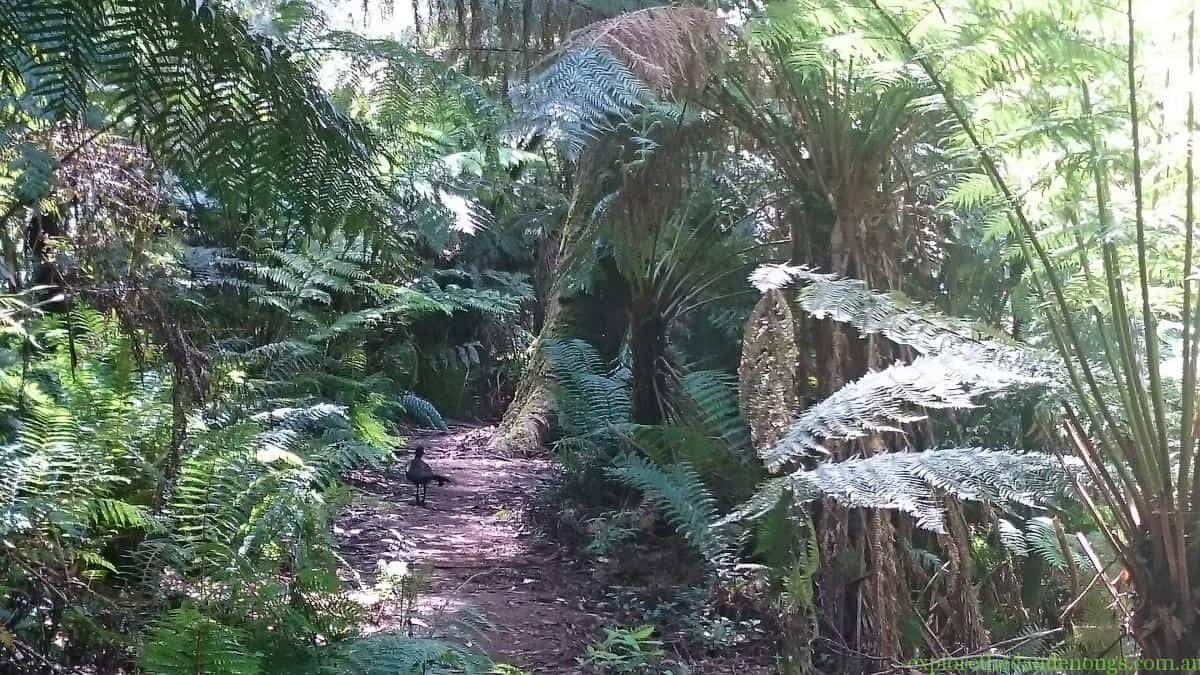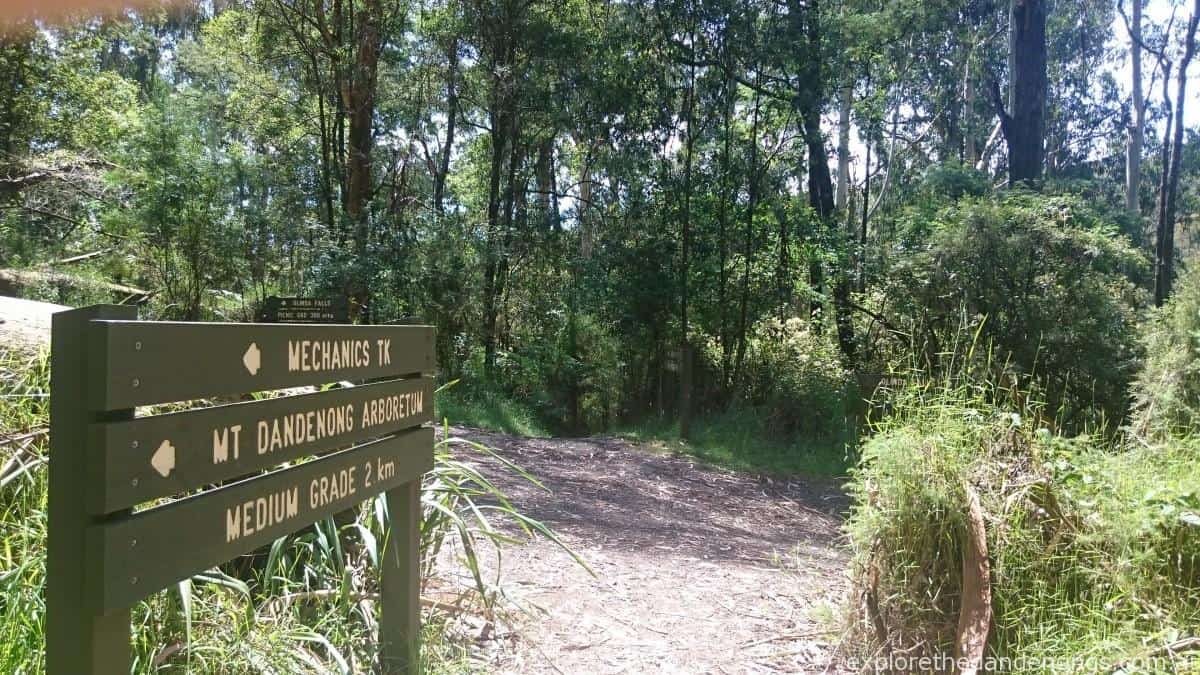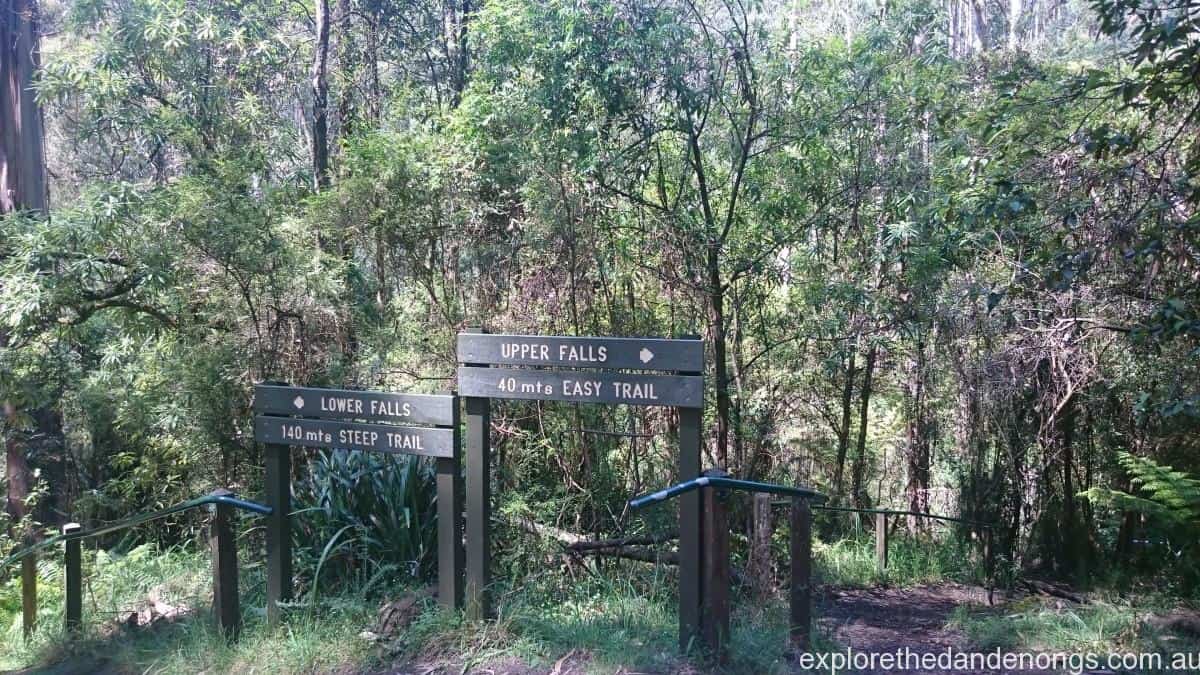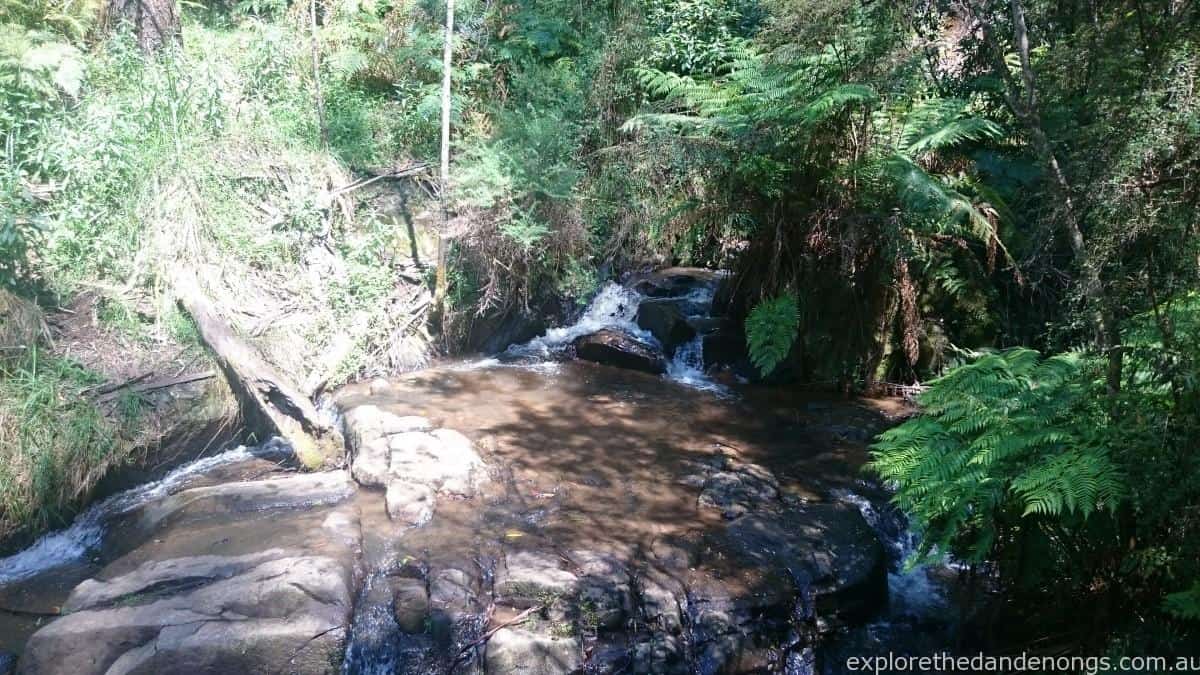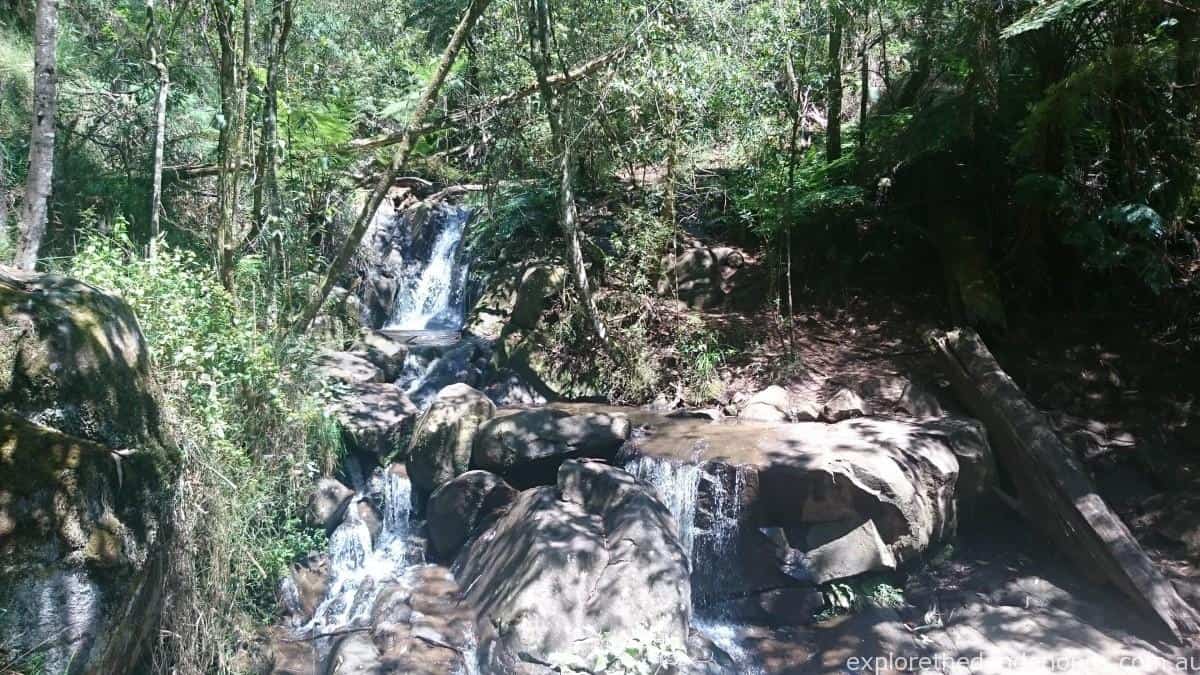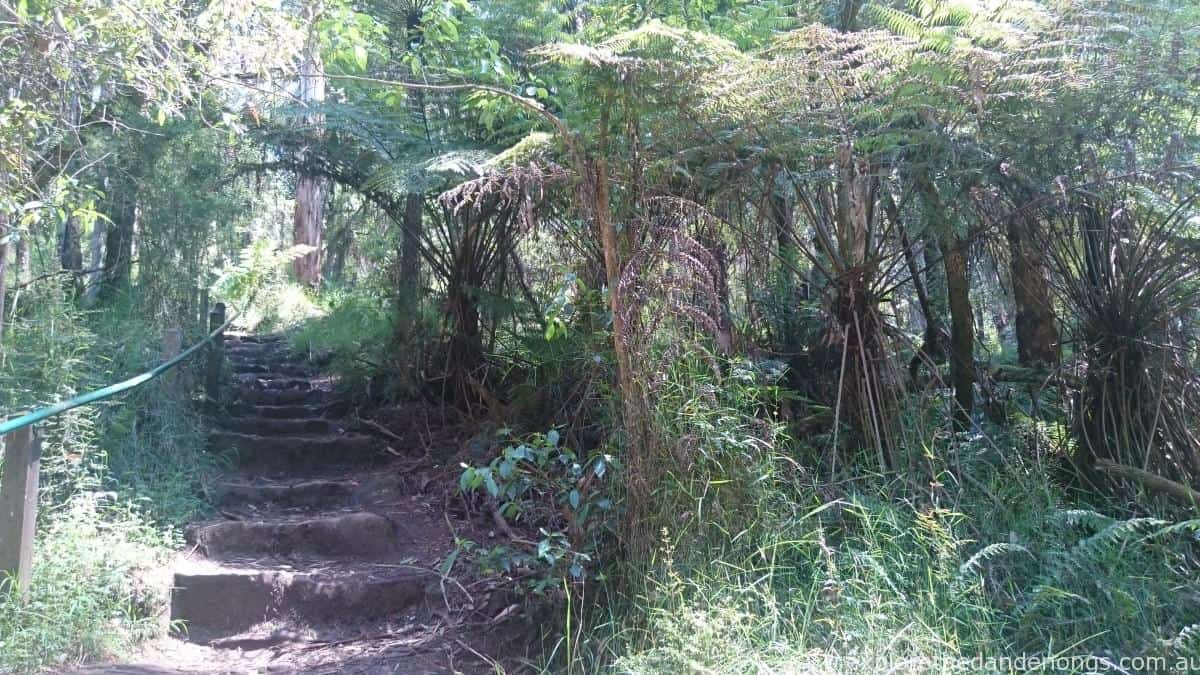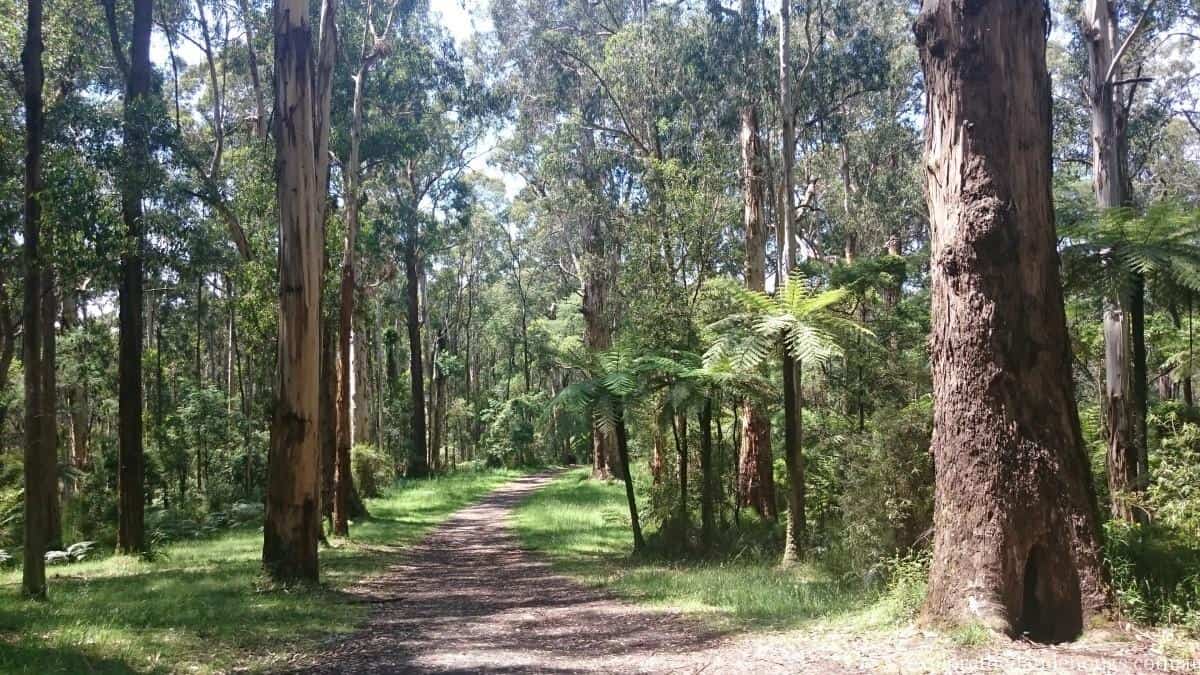 ---