Dog Friendly Bush Walks & Cafes in the Dandenong Ranges
Dandenong Ranges dog-friendly walks, that are also wonderful for their owners, can be found despite the fact that we are surrounded by a few thousand acres of National Park.
These dog-friendly hikes are some of the best places to take your dog near Melbourne and around Victoria. We have researched all these bushwalks as we have a dog ourselves and each one is well worth doing as they all offer something a little different – tall forests, views, creeks, and undulating terrain.
Before or after your walk, we even have some great dog-friendly cafes.
This article may include affiliate links. Please read our disclaimer.
11 of the Best Dog-Friendly walking tracks near Melbourne
Rules and conditions can change, please let us know if any of these tracks have signage restricting access for dogs. Please also abide by rules, most bush tracks are on-lead only, walk number 11 is the place to let your dog off-lead to romp.
Old Olinda Golf Course Dog Park – Off-lead area with stunning views across the valley plus a kids playground
Mathias Track: Easy Note: This walk is so busy on weekends that it is no longer pleasant. Walk no. 1 is better!
Rock Track Circuit Walk: 3 km's | 1 Hour Easy
Rock Track- Mathias Track Circuit Walk: 6 km's Easy > Moderate Walk
Glenfern Valley Bushlands: 6km's Easy > Moderate
Birdsland Reserve: Easy Walk
The Tan Track: Sherbrooke. 2.7 km | 40 mins | Easy Walk
Dandenong Ranges Tourist Track – Sassafras to Emerald – 15km, one-way/ 5 hours | Moderate Walk
Emerald to Cockatoo – 12kms return | Easy > Moderate
Silvan to Mt Evelyn: Olinda Creek Walking Track – 9.2kms return | Easy > Moderate
Cardinia Reservoir Park – 3 km's | 1 Hour along Messmate Track | Easy > Moderate Walks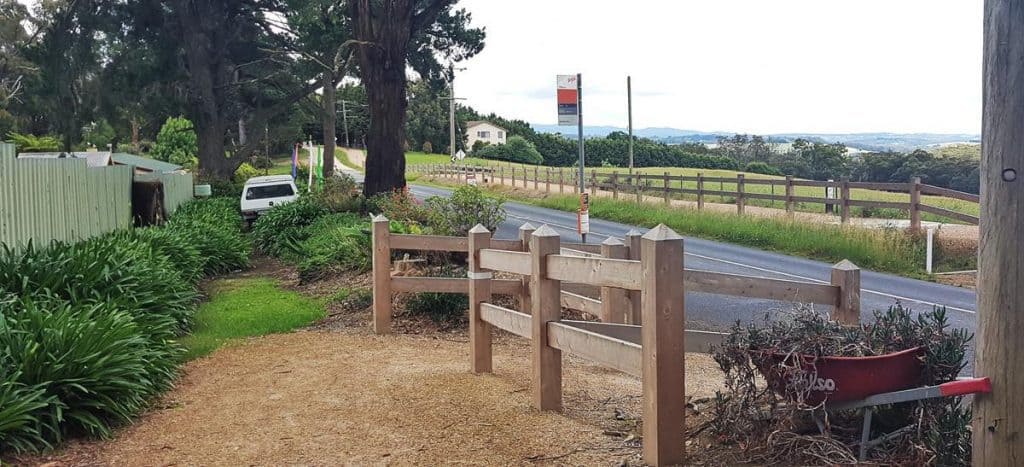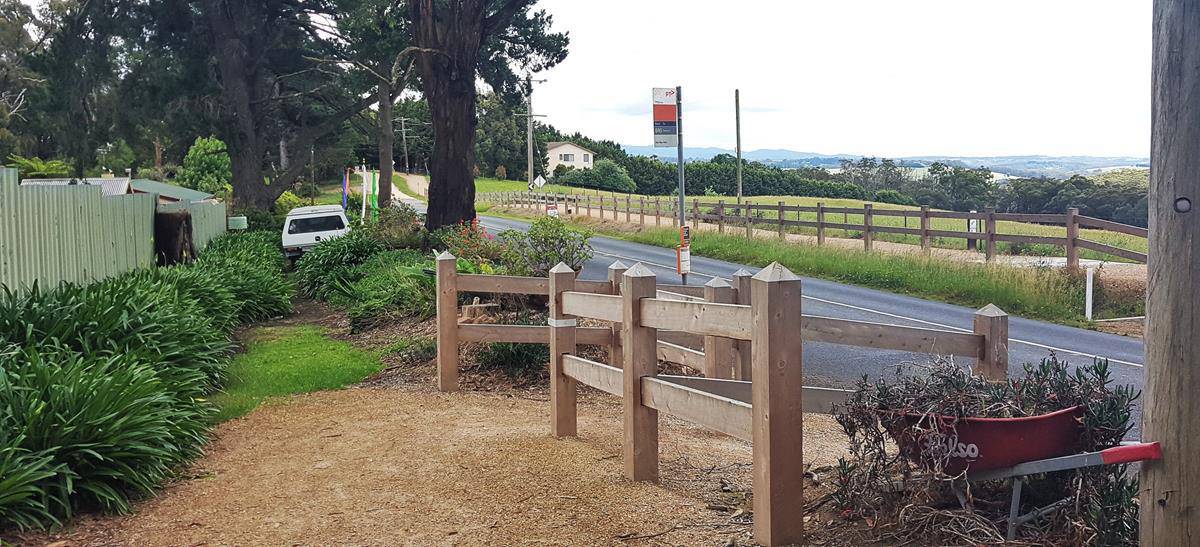 More dog-friendly walks near Melbourne
Liverpool Road Retarding Basin This is a really nice place to walk, it follows around a small lake and walkers can either follow the entire outer circuit of cut through the middle on a few different paths. It always seems to have plenty of enthusiastic walkers out and the views across to the Dandenongs are super. Get Directions
Lilydale Lake is another good walking area. Dog walkers can follow the path around the lake, on-lead, and then let the dogs run off the leash at the far end where there is a small creek they can swim in and even an agility type course. Get Directions to the dog off-lead area.
---
The best off-lead dog walk near Melbourne is in the Dandenong Ranges – Old Olinda Golf Course
The Olinda golf course ceased being used to play golf some years ago and is currently being used by many people for walking, with and without dogs. It is an expansive area with stunning views, pack a picnic maybe and enjoy this special spot. From the golf course, it is easy to connect with Mathias Track, Rock Track, and the Hamer Arboretum (on-lead).
Another great spot for off-lead walking is in Emerald at 'Pepis Land' Find the location on our map.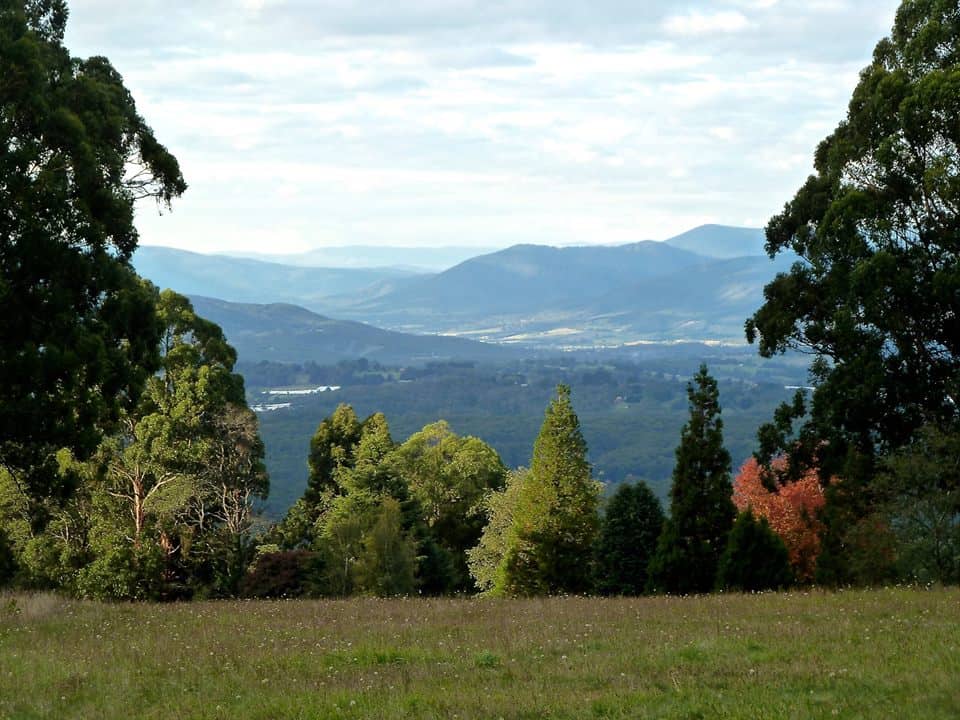 Dog-Friendly Parks and Gardens in the Dandenong Ranges
Some of our parks and gardens do allow dogs-onlead, which is wonderful. Rules can change though, so please always read regulations at the entry points before taking your dog in.
Currently, the Alfred Nicholas Gardens, George Tindale and Pirianda Gardens allow well-behaved pooches in, always on lead. These two gardens are stunning in the Autumn and wonderful all year round. The Mt Dandenong Arboretum is another lovely spot too.
Dog-Friendly Accommodation – Dandenong Ranges
Dog-friendly accommodation is available staying with some of the best bed and breakfast hosts in the hills.
Please pay attention to any rules that accommodation hosts ask when taking your dog on holiday, this will be polite and also mean that these accommodation options should remain dog-friendly.
Dog Beach Melbourne
Who'd have thought we had 14 dog-friendly beaches around the bay and Mornington Peninsula? We even have a couple of horse/pony-friendly beaches, one in Mordialloc!
Dog-Friendly Beaches – The Great Ocean Road
Down along the Great Ocean Road we have some great all year round off-leash beaches for dogs.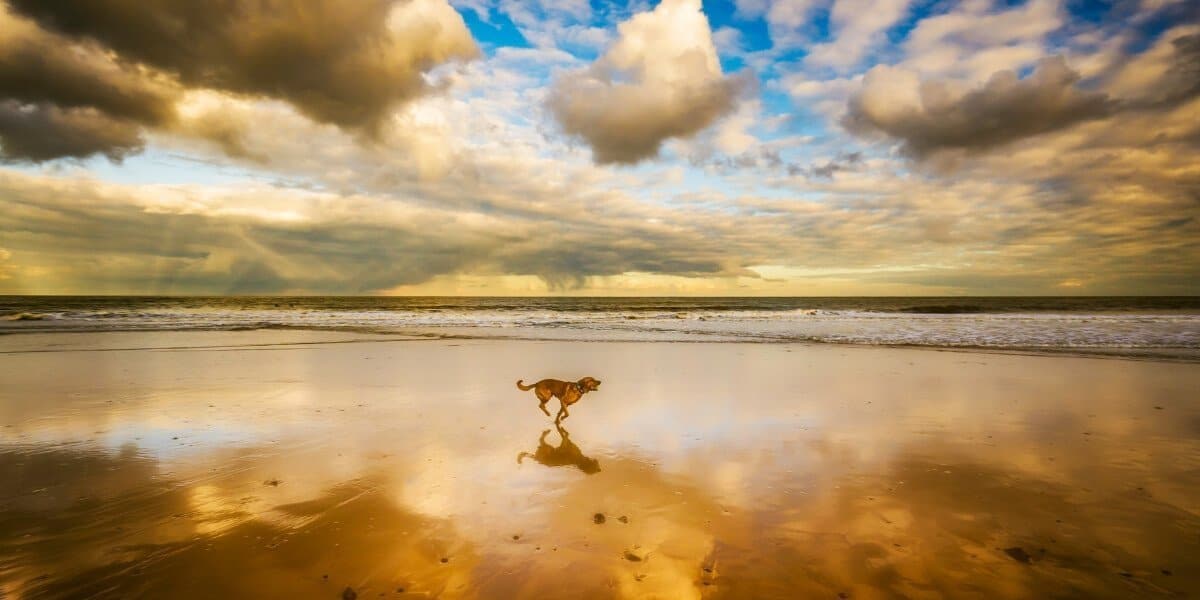 ---
Dogs
/ Animals on Public Transport from PTV Website
Animals can travel subject to the following conditions:
Metropolitan services
Dogs must be muzzled and on leads to be permitted on metropolitan trains.
Other small animals are permitted on the metropolitan train, tram and bus, provided that they are carried in an approved animal container. For approved animal containers, please see V/Line guidelines below.
Animals other than dogs and assistance animals are not allowed to travel on public transport unless they are carried in an approved container as stated above.
It is strongly advised that customers with dogs do not travel on weekdays between 7 am and 9 am and between 4 pm and 6 pm.
Read more from the Public Transport Victoria Website
---