What is there to do in the Dandenong Ranges?
We have a number of attractions within the Dandenongs, along with the many walks. Free and paid activities can keep visitors busy for days. All the attractions listed below are family friendly.
Our famous little steam train carries thousands of passengers from Belgrave to Emerald and beyond every day of the year.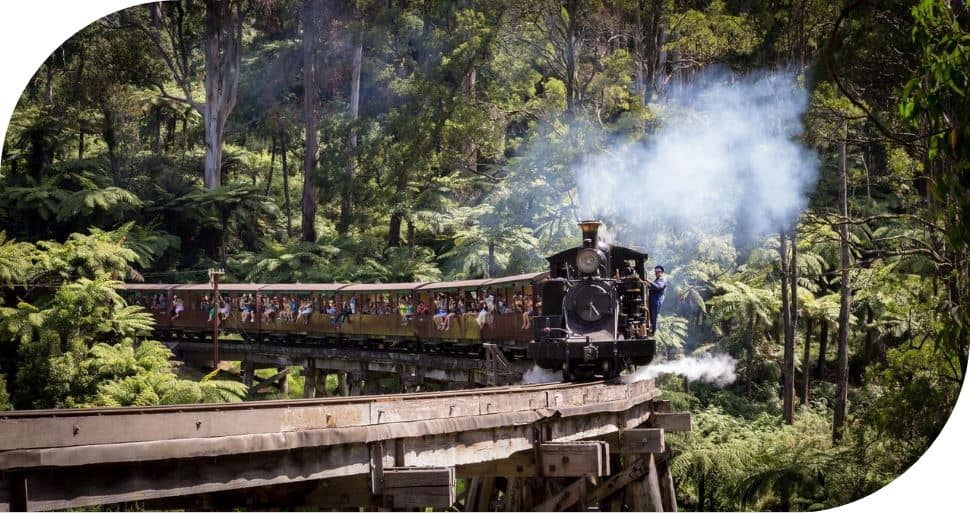 William Ricketts had a vision as well as an outstanding talent for sculpting. Set amidst the rainforest and Mountain Ash of Mt Dandenong, this is a place not to be missed.
Stunning spring colours as well as autumn foliage, the Rhododendron Gardens provide walking tracks, a small lake, views and picnic areas. Lyrebirds will often be seen scratching around, seemingly oblivious to visitors.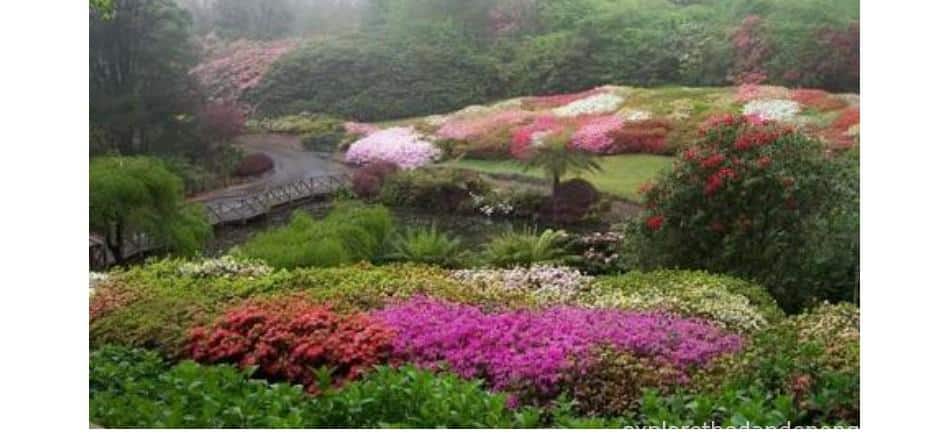 Lovely walking tracks, as well as a pretty ornamental lake, make this a popular destination. Puffing Billy Steam Train stops nearby and paddle boats can be hired. Superb autumn colours, miniature railway, swimming pool and a cafe.
Set in the beautiful and historic Nobelius Heritage Park, Emerald Museum is a local history museum and archive.
The Museum tells the story of Emerald's colourful past through displays of memorabilia, photographs and documents dating from early aboriginal occupation to the present day.

Emerald Museum houses and selectively displays approximately 2,000 photographs, 600 memorabilia, documentary records, including contemporary records and family histories relevant to the economic, social and environmental history of the Emerald district. See the Gallery for a small sample from the collection.
Brilliant fun for all the family. The Trees Adventure Park is set in the Glen Harrow Gardens, Belgrave. To say it is a stunning setting would be a massive understatement!
The famous views from Mt Dandenong would have to be one of the most visited areas of the hills. The maze and gardens, as well as the Giant's Chair, will keep visitors entertained for hours.
Travel east out of Melbourne – high and deep into the misty blue Dandenong Ranges. Keep going, past the cafes and tourists and the Puffing Billy steam train. Beyond the towering gums and giant ferns of Sherbrooke Forest.

You're nearly there. Somewhere unique.

Head for Monbulk, but turn left just before you get there and follow the winding road some more. You've arrived. You're now in flower country, where blazing blooms of every hue confetti the rolling green fields.
The autumn colours around the ornamental lake and boat shed of the Alfred Nicholas Gardens can often be seen featured in promotions of the Dandenong Ranges. Beautiful during any season, the gardens are a fabulous place to explore.
They have been included in this list of attractions as people often see the images of the lake and boat shed but do not know where they are located.